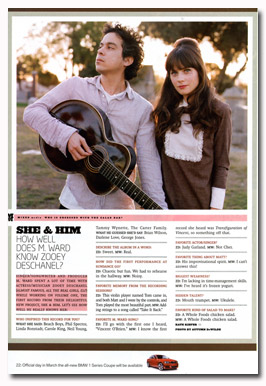 With advertising dollars increasingly moving away from print—and marketers putting pressure on magazine publishers to get more creative to match the visceral impact of other media buys [SEE: "Sensory Overload: Publishers Stuffing Magazines with Sights, Smells, Sounds"]—it's no wonder that publishers are finding marketers real estate once thought to be off-limits for advertisers.
The latest magazine to carve out editorial space for ads: Paste, the Decatur, Georgia-based music magazine, which placed contextual ads for BMW's "1" Series next to various editorial page numbers in its April issue—wrapped, conveniently, by a BMW ad.
(Sample copy on page 32: "Inches of legroom in the rear of the all-new BMW 1 Series Coupe.")
"We didn't see a real conflict there," Tim Regan-Porter, Paste's president, told FOLIO:. "It's not much different than putting a quarter-page ad on an editorial page. So there was no ethical concern." Regan-Porter says the idea came from a Mini-Cooper campaign in which some magazines—with approval from the American Society of Magazine Editors—ran cartoons in the margins. "BMW loved that," he said.

'Nothing's Shocking'
Paste is not the only magazine to find new places for potential blurring of the ad-edit line.
Bon Appétit allowed Starbucks to infiltrate the business-side masthead of its May issue. The page—opposite a two-page Starbucks spread—included staffers' answers to the question, "What do you like best with your Starbucks at home?" (Sample answer: "Starbucks Breakfast Blend and a blueberry-nut breakfast bar is all I need to kick-start my day.")
Yet, despite reported interest from other advertisers to repeat the stunt, Condé Nast, the magazine's parent company, said it would not allow ads on mastheads moving forward.
Last month, Vice magazine embedded a glow-in-the-dark advertisement-also part of the BMW "1" series campaign-on the cover of its Canadian edition.
"Maintaining the integrity of our cover—which is not usually for sale—was an amazing challenge," Shawn Phelan, director of sales and marketing at Vice's Toronto office, said at the time. Vice publisher Erik Lavoie told FOLIO: "there are no plans as yet" to run a similar ad in the U.S. version, but wouldn't rule out the possibility.
'Handcuffs'
As print advertising revenues continue to slide, the pressure on publishers to blur the church-state line does not appear to be going away anytime soon.
At the recent New York Magazine Day conference, Steve Sturm, group vice president of strategic research and planning at Toyota Motor North America, said magazines need to realize that their readers don't care as much about editorial ethics and the concept of a church-state line as publishers—if at all. "[The line] has been self-governed and self-policed—you've put the handcuffs on yourselves," Sturm said. "The federal government, the state government, they haven't told you to do it. You put up all these roadblocks" that other media don't have. And a younger generation of potential readers, he said, "don't play by the same rules you play by."
"We wouldn't want [wraps and marginal ads] in every issue," Regan-Porter said. "As long as it doesn't get too old or irritating to our readers, we want to show advertisers the value in print. A one-page [ad] doesn't always do that."