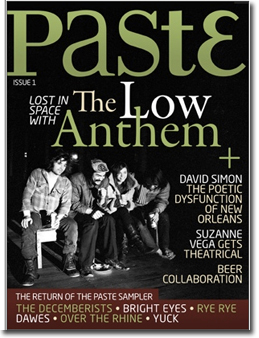 Paste Magazine, which folded its print property in September 2010, then sold to Wolfgangsvault in March, relaunches today as a digital edition running on Paste's proprietary web-based mPlayer platform.
The mPlayer, which is currently available in a free beta preview until early September when the subscription model will be put in place, features Paste's trademark long-form musician profiles with integrated features such as music videos, audio samples and short films. The weekly edition will have seven mp3 downloads to be paired with editorial features.
This is a nod to the CD samplers that were included with the print version of Paste, on which samples from the magazine's featured artists were available.
Although Paste had kept its website active since the print property was pulled (and currently has about a million uniques), the Paste staff felt as if features were not getting the attention they deserve. "We missed the idea of surprising and delighting our audience with the unexpected, to be able to put together a package of features that they can come across at home with their iPad, with time to spend and read; we really built it around that," says Paste president and co-founder Tim-Regan Porter.
Inspiration for the mPlayer came when Regan and editor-in-chief Josh Jackson began to build the idea of digital version of Paste from scratch, since staff no longer had access to assets such as Quark.
"We didn't want to go the standard way that print mags tend to go to, which is take a PDF and turn it into a digital replica. It just didn't feel natural to us, felt like they were trying to force assets onto a computer screen, which didn't engage with a customer," says Jackson.
Paste will feature a small group of advertisers per issue. As far as the staff is concerned, banner ads will be nowhere in sight; advertisement will be integrated into the player, and will be unobtrusive to readers. There are no set advertisers at the current time, as the property began to be introduced to potential buyers only last week.
Marketing will begin with current fans, as Paste has 100,000 Twitter followers and 30,000 Facebook fans.
"When you start from scratch, you can throw every idea you have about what a magazine or digital mag is out the window," says Jackson. "Then, you can start with user experience and build around that. There's room for imagination still."