Past, Present, Future: Behind the Launch of Rodale's Organic Life

A Q&A with James Oseland, EIC, and Ellen Carucci, publisher, of the new eco-lifestyle magazine.
Rodale's Organic Life hit newsstands last week as one of this year's most anticipated launches. The title, a reformulation of former flagship brand, Organic Gardening, is aiming at what it thinks is an underserved, eco-conscious audience, at a scale unprecedented in the segment.
Here, Folio: talks with the magazine's editor-in-chief, James Oseland, and publisher, Ellen Carucci, about it's connection to the past and some of the choices they've made in development.
…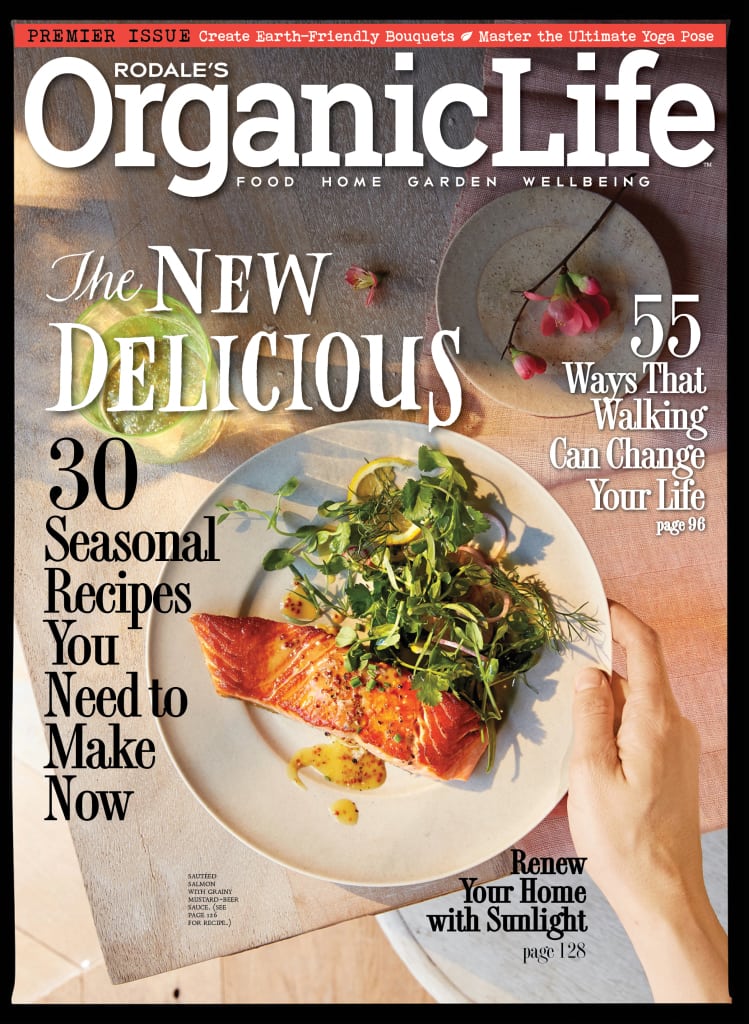 Folio: You've been branding Rodale's Organic Life as a lifestyle brand, but the magazine has strong roots in the epicurean segment, and the first cover is reflective of those roots. Is this a lifestyle magazine or an epicurean one?
Ellen Carucci: I think this is very much a lifestyle magazine because our four key content pillars are food, home, garden and wellbeing. The editorial hits on all of those points. While food may seem like a little more of an equal pillar than all the rest, at times, I'd say we're definitely a lifestyle magazine.
Folio: In developing Organic Life, how conscious have you been of maintaining a connection to Organic Gardening?
James Oseland: At the most essential level, the content that a reader would find in Organic Gardening is still very much in place in Rodale's Organic Life. It's formatted differently, it looks different, it might feel different on a visceral level, but fundamentally, all the same streams of information that a reader would find in Organic Gardening are there.
Carucci: From an advertising point of view, it's very important that we keep that core mission of Organic Gardening front-and-center as we present Organic Life to the marketplace.
A lot of magazines want to jump into this green space, but because we pioneered organic in this country and because we have deep roots with J.I. Rodale, widely considered the father of this movement, we have the authenticity and the authority to launch this brand. That historical legacy is such an important part of our D.N.A.—we talk about it on every sales call.
Oseland: And we consider it in every editorial choice we make.
Folio: How many of your advertisers are coming over from Organic Gardening?
Carucci: With the exception of one advertiser who decided they weren't spending any money on print this year, we captured virtually all the previous advertisers. That's one of the things I'm most proud of. Even some of our gardening equipment brands, brands we thought might be at risk, have actually increased their schedule.
We also have 18 new advertisers. [The magazine has 64 total advertisers in its first issue.]*
Folio: Why did you decide to keep the bimonthly frequency? Did you ever consider changing it?
Carucci: Jim didn't start until September, and with the first issue being May/June, it just didn't seem to make sense to increase frequency in the first year because we had such a short runway. But down the road, increasing frequency is something we're definitely looking at.
Folio: You're increasing the magazine's newsstand draw pretty significantly, going from 15,000 to 200,000, at a time when all the stats point to a declining newsstand. Why are you going the opposite direction?
Oseland: There's such a genuine level of confidence from Rodale, from the folks who earnestly created this title and from our crack newsstand analytics team, that we've got a success in the making. All of us believe that the title we've created doesn't exist, and it hasn't existed before. The depth to which it covers its main topic pillars has never been attempted before in the organic and eco-friendly space. To our analysis, and to our gut instinct, there's a huge potential market out there.
Carucci: The fact that so many new retailers were embracing it gave us the confidence that there was so much hunger for this brand. In a time of consolidating newsstand sales, that so many new retailers were willing to put Organic Life on their shelves, was also a huge selling point for us going into the marketplace. And the idea of having so many opportunities for new consumers to sample this was just thrilling to us.
*Editor's note: An earlier version of this story stated that the magazine had 10 new advertisers.
Meet the Author
---