Parenting.com and TODAY.com Partner in Cross-Branding Strategy

Offers advertisers multiple platforms for one price.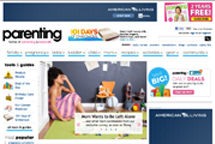 Bonnier's Parenting website announced its partnership with the TODAY show's website; offering Parenting.com and Today.com users a wider breadth of content, and advertisers a greater reach for their campaigns.
The partnership kicked off on Wednesday morning's edition of the TODAY show, with Parenting.com editorial director Rachel Fishman Feddersen sharing results of a dual branded "Mom Confessions" survey. 26,000 individuals responded, culled from both Parenting's and TODAY's digital properties. The survey will also be highlighted on Parenting.com and Today.com, and included in an upcoming issue of the print edition of Parenting.
The second portion of the survey segment will air on Thursday, August 10.
Content will be shared across both digital websites: Parenting.com will utilize relevant TODAY video clips, and Today.com will include content from Parenting.com health guides, activity sessions and other features. Parenting group publisher Mark Wildman says that media will be combined for both sites into one package and with one price tag for advertisers.
"This program will appeal to a number of different national brands looking for large-scale digital opportunities reaching the mom market. In particular, we've identified finance, pet care, retail, travel, health and lifestyle advertisers as key targets at launch, given Today.com's editorial strength in these content areas," says Wildman. He also says advertiser response has been very positive up to this point.
Cross promotion will be pushed strongly in the social media sphere, with both brands sharing each other's content through multiple platforms. Of the initial launch, Wildman says, "In conjunction with this morning's segment, both of our respective editors blogged about the survey findings, and cross-promoted the posts to each other's Facebook and Twitter followers."
Future cross branding will include regular editorial features, surveys and programming, according to a press statement.
Collectively, the Parenting Group and TODAY media properties (including web, print and broadcast audiences) reach 30 million users a month.
According to MagazineRadar, Bonnier titles led ad growth out of six major publishers, with pages up 12 percent. January-June 2010 saw 5,921 pages for Bonnier's 29 titles, while January-June 2011 boasted 6,624 ad pages.
Meet the Author
---