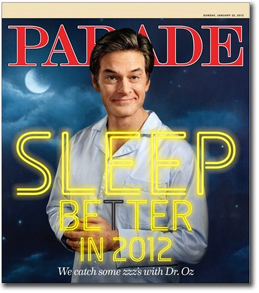 After months of planning, PARADE Magazine is rolling out a mobile app to cultivate advertisers and enhance the content offerings to its existing reader base.
"We've been wanting to launch a mobile platform around our celebrity coverage for years," says Allison Werder, the magazine's executive vice president and chief marketing officer. "There's a lot of interest with the female mobile audience and with advertisers interested in this group. It's a great pairing for what we wanted to do with our franchise and what we're hearing the market place is looking for in terms of the mobile space."
PARADE is not betting this will increase print subscriptions but categorizes the opportunity as more of an "advertising play" for the company. The print publication, in addition to PARADE digital assets, will be used to promote the app to increase downloads.
"People see PARADE every Sunday and this is a way to round out the coverage," says Werder. The free app is available for download on the iPhone, iPad and Android smartphones. "For 70 years PARADE has been a question and answer, back and forth dialogue with readers—that's the whole way the franchise was built. This takes the best parts of that and creates a quiz like function, allowing readers to test their knowledge and get immediate feedback on how much celebrity information they know, which they can share on Twitter and Facebook."
In addition to pop culture quizzes, the app will offer daily news updates, photo galleries, interviews and the "Personality Parade" weekly column. The content will be a consolidated version of the magazine's celebrity print and Web content and the in-app questions will differ from those that appear in the printed product.