Paper has been at the heart of the publishing industry since Gutenberg introduced the printing press in 1450. Flash forward 560 years, and the ups and downs of the market still exist, leaving publishers with the task of wrangling costs without sacrificing quality.
"The industry is a mixed bag of stability," says Phil Schlosser, National Geographic Society Production Services SVP. While Schlosser says the company has seen reductions in the cost of paper, he says these trends are usually short-lived.
"We have long-term contracts and very good relationships with our print vendor, and we've agreed upon some controlled price increases," he says. "But the paper industry's been pretty volatile over the last couple years and will continue to be so. Consolidation, machines becoming inactive, that's going to continue, so it will continue to be up and down across the board."
Maximizing Partnerships
The Society uses one paper supplier for both gravure and offset printing, which is one way the group has been able to manage costs.
"We only have one supplier, one make of sheet that we use, which allows us to partner with our paper supplier for strategic buys," he says. "We can take advantage of their slower times versus their peak times. With strategic buys we're able to not, in most cases, exceed additional storage of freight prices. It's one way we've been able to manage the volatility of the paper market. But it's a constant battle."
There are three major components the Society looks to when trying to manage costs for their photo-heavy publications: Quality, costs and environmental impact.
"The ugly joke is it seems you can have any two, but it's difficult to have all three," he says. "But we do an excellent job of managing the delicate balance between all three. Quality is perceived in a lot of different ways—you can do the easy stuff of cutting pages, reduce the basic weight, change grades of substrates and cut some corners. But we pride ourselves in not having to go that way."
By using the same sheet for both gravure and offset printing, the company is better able to manage its inventory and roll sizes to keep costs down.
The Society wants to introduce recycled fibers into its printing process, but is looking to keep quality top of mind, which can at times be difficult.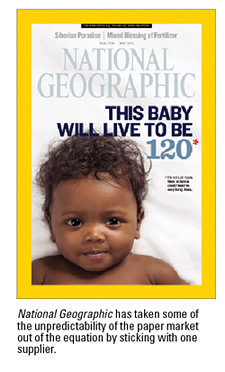 The Recycled Fiber Question
"We're working with our printer to figure out what the right use of recycled fiber is," says Hans Wegner, the Society's chief sustainability officer. "We've asked them to do some testing for us, which entails importing* some recovered fiber into their integrated mill. It will inevitably affect our cost in some way, but the biggest driver will be whether or not it meets our quality standards. We're going to have to figure out with our printer what is possible and whether it will have a negative impact on the quality of reproduction—we don't want to have that suffer."
Wegner adds that when introducing recycled fibers it also becomes a question of supply.
"A lot of the fiber that is recovered in this country is exported to China—something in the neighborhood of 42 percent," he says. "The American industry is really competing for the rest of that. So price does probably become a factor, but we don't quite know yet what that will be."
When the substrate used for printing is changed it also changes how images are prepared, as well as color profiles—something highly important to National Geographic, which is known for rich photography.
"The first goal is to establish if we can do it from a quality standpoint, and if that's not an issue we'll do some test runs," says Wegner. "We'll look to find the appropriate level and whether or not the right fiber is available. Recycled fibers constitute a whole spectrum of different products, and we need white, bleached fiber without incurring too much of the task of cleaning it or re-bleaching it."
_____________________________________________________________________________________
*Editor's Note: An earlier version of this article misquoted Hans Wegner. He meant to say National Geographic's printer is importing some recovered fiber into their integrated mill, not exporting.