Panic: When Will the Layoffs End?

Industry's latest bloodbath has magazine staffers on edge.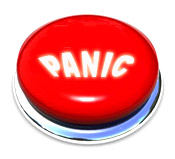 The numbers are staggering: 22 at American Express Publishing; 30 at Southern Progress; 111 at Rodale; as many as 600 at Time Inc.; an unspecified number at Condé Nast, where a 5 percent across the board budget cut was implemented; and just yesterday more cuts were announced at Hearst.
It's no longer just alarmists who are doing the panicking over the industry's recent spate of layoffs. It's everyone.
At a conference last week, Ann Moore, Time Inc.'s normally bullish CEO, was uncharacteristically reticent: "By October it was looking like 1931," she said. "[Time Inc.] has never had so many advertising clients in trouble at the same time. The declines are stunning."
As one senior staffer at a major consumer magazine told me at Radar's Halloween party-turned-funeral in New York, "It's like a perfect storm: hemorrhaging of print advertising, crashing stock prices and panicked CEOs."
So the question on everyone's minds in magazines these days is this: When will the panic—and layoffs—end?
Back in March, when FOLIO: published its annual magazine job report, Eliot Kaplan, editorial talent director at Hearst, said it's a "great time to enter the industry," as job descriptions broaden and employees gain marketable experience well beyond the printed page. But he admitted Hearst was "not adding a lot of bodies" and trying to achieve growth with existing staff. "We try to get fewer people touching the page without affecting the quality and making it as good as or better than ever," Kaplan said.
Not surprisingly, virtually all of the executives at these companies and others contacted by FOLIO: this week refused to talk on the record about the layoffs or the associated panic within their organizations.
But that doesn't mean you can't talk.
So, let's get this discussion started: When will the layoffs end? Add your thoughts in the comments section below. I'll kick things off …
Meet the Author
---