paidContent Moving to Gigaom, Indefinitely

The site posted its last blog as a standalone site on Tuesday.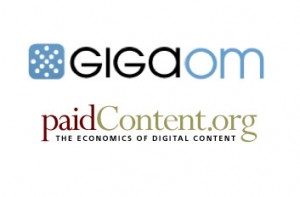 paidContent's readers learned on Tuesday that the brand is migrating its content onto parent site, Gigaom.com. And the site will cease to exist within the next few weeks.
Last year, Gigaom Inc. purchased ContentNext from Guardian News & Media. After the deal, paidContent remained a mostly-independent brand. The initial aim was for the site to operate as Gigaom's East Coast arm. However, that independence and strategy changed Tuesday when executive editor, Tom Krazit, writes in a blog post that paidContent is being absorbed into Gigaom's Media vertical, and his blog is the last piece of content the site will post.
He points out that Gigaom is undergoing a rebranding effort and it is looking for a return to its roots–blogs and themes with editorial consistency.
"We want to be a unified company presenting one vision of the future of technology to our readers, and that involves aligning the way we present our content around a single brand," Krazit writes.
Krazit justifies the shift by pointing to a recent reader survey, in which 75 percent of respondents say that they are seeking more coverage on emerging technology. Of course, those narratives are already native to Gigaom, so the decision is practical from an editorial standpoint.
Staffing and the organizational structure will remain status quo. And from a business perspective, CEO Paul Walborsky, says it came down to efficiency and strengthening the Gigaom brand.
"The decision that we made was based on building one brand," he says. "Are you building a house of brands or a branded house? We have a very strong brand in Gigaom, and as a company we want to be able to put all our effort behind it. For us its better, and more efficient and effective."
It's also worth mentioning that the paidContent name will live on (at least through 2014) through its cobranded live spring event with Gigaom.
In terms of advertising and traffic, the company is not concerned about the possible impacts of consolidating brands.
"At the end of the day we are just redirecting our content into the media channel, therefore we probably won't lose any unique visits or page views."
That still leaves some questions about who the paidContent and Gigaom audiences are, and whether the migration will be seamless. According to Walborsky there is about an 18-20 percent overlap in readers between the two sites.
Still, he doesn't find that to be problematic.
"When we talk about technology and media it's not a zero sum game," he says. "When people read a story on one site they don't stop reading. There is always some overlap."
Rafat Ali, current CEO at Skift, founded paidContent in 2002 to report on the economics of digital content and how technology was disrupting traditional media. The brand later became a property of Ali's ContentNext Media along with the now defunct mocoNews.net and contentSutra.com. Ali left ContentNext Media in 2008 after selling the company to Guardian News & Media.
Meet the Author
---