Today's news that Wired was moving to a metered subscription model in January got me thinking about how common paid digital content is becoming once again and how many of us who cover this space are acting like it's some new, novel approach at increasing revenue.
We have seen attempts to meter content or sell access to websites come and go. So how will it actually be different this time?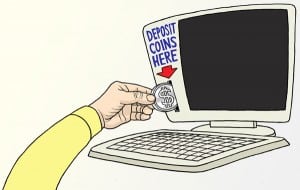 I can't actually answer that. But to be clear, I am not an opponent to subscription models. In fact, I think the internet created a very bad idea that content, in any form, should be free. As if us content producers were doing this solely for our love of the craft and don't need to feed ourselves or pay our bills. Yes, journalism is sacred and very much a public good, but it's also a product and needs to generate revenue somehow in order to sustain itself and the people who create it. For decades advertising shouldered much of that responsibility, which included classified ads in newspapers. But now we live in a different time where advertising dollars are spread much thinner across a range of platforms, and data is mandatory in proving ROI. Further, Craigslist, wikis, blogs and social media have usurped some of the things legacy media used to provide and have forced cracks in the publishing infrastructure.
Publishing is now very much a frontier in that most players are still exploring and trying to find their way around this new landscape. You don't have to look too far back to when the business model was simple. It was a mix of ad sales and subscriptions, along with some ancillary streams like licensing or events. But it was all anchored by a print product, or rather a print brand. Now the business models include all of those things and a whole lot more, and on multiple platforms — including video. (Imagine, 25 years ago, telling a company like Condé Nast that its future was in motion-picture content and not print.)
Sorry to digress from my original point here, which is asking what should we should make of this revival of paid digital content. I applaud brands like Wired, Slate, Financial Times and others who are reexamining the idea, but I also have concerns. A colleague of mine made a salient point that a paid model can actually bolster advertising because it's proof the brand has a quantifiably loyal audience that advertisers will want to buy against, which is not unlike the foundation of what has sold B2B advertising for years. I couldn't agree more with this premise.
But on the flip side, internet culture is now 20-plus years old and we are all creatures of habit. So asking people to pay for something they are used to consuming for free isn't a sure thing. What's more, thanks to things like Netflix, Hulu and even cable TV, media consumers are growing accustom to having a buffet of content at their fingertips for a single fee. Thus I am skeptical of the idea that they would want to pay for access to a handful or more of their favorite publications. I know what you're thinking, millions of people subscribe to multiple magazines and newspapers. But again, digital media is different culturally.
I think companies like Texture and Blendle have the right idea when it comes to content in that regard, but they both seem to be slow to catch on. Again, I attribute this to the digital culture we've created. However, both products offer consumers a choice and the ability to discover things they may not have realized they wanted in the first place.
In the wake of all of these rapid changes in media and publishing, I think the ability for consumers to discover something they didn't know they wanted has been nearly lost. That has always been one of the beautiful things about print magazines and newspapers. Each issue is a curated selection of content that offers the reader choices in what and how he or she can consume it. For instance, I always read a magazine from back to front. A website or app doesn't allow me to browse in such a way, so I will keep reading magazines because I enjoy the choice I have to experience them in the way I want.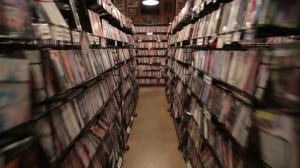 Still, in terms of discoverability, digital media does have the mechanics to maintain the tradition of random consumption. It was only 10 years ago when we would all hit up the local video store and browse the shelves to find a movie to watch that night. Often we went there with the intensions of finding a particular title, but if it was already rented out — which was pretty common on the weekends — we'd look around and pick out something else. Sometimes those random picks turned out to be winners, and other times horrible losers. And now, Netflix and other streaming services offers a similar experience, but instead we're browsing a screen (and we never have to worry about a movie being out of stock until Monday).
Ultimately, what I'm trying to get at is this: readers need choices and if they get them, they will pay. I think paid content is an imperative moving forward if publishers want to maintain the one thing readers expect from them, which is quality. Ad dollars will continue to be stretched, and will shift towards the dominant platforms, so publishers can't wait around for that money to come back to print, because it won't. And digital display ads and even native still isn't doing enough to offset the losses the industry has suffered in print. Thus it's time to get serious about new and better paid content models, and think about more ways to serve the consumer better.