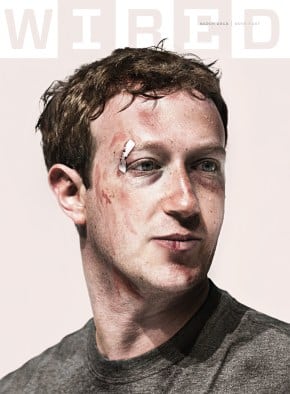 When Nicholas Thompson took over as the editor-in-chief of Wired magazine last January, he walked in with a goal to add a paywall to its website.
It came as no shock to anyone, considering Thompson had led the creation of The New Yorker's paywall in 2014.
Instead, it was Thompson who was a bit surprised. When he announced the initiative, staffers didn't immediately look at the move with skepticism. It was a far cry from his experience at The New Yorker, where journalists and editors had stressed about lost traffic. Would anyone see the work, without a free pass? It ended up proving moot for The New Yorker, which saw pageviews rise after the paywall was installed.
"Wired was totally on board," said Thompson. "We needed engineering resources, needed time," but the support was there.
What a difference a few years make. In the first week of February, Wired re-launched its website with a metered paywall. Readers can now click on four stories each month for free. Upon the fifth article, a prompt comes up, requiring the reader to pay for a subscription if they want to view the entire piece.
Magazine subscribers receive full access to the site, and both print and digital-only subscriptions come with an ad-free experience.
By taking the step, Wired joined a number of other publications and websites that have made the switch to include a paid version of their content. CNN, Business Insider and The Atlantic are among those publications in the process of launching, testing or building new paywalls. They're joining traditional newspapers, like The New York Times, Financial Times, The Washington Post and the The Wall Street Journal, which have long-embraced the pay subscription model online as it becomes a growing source of revenue in digital publishing.
It's not always an immediate success, though. TheStreet.com launched a paid version of its website in 2015, dubbed Real Money, which offered more detailed analysis and opinions than the news readers could access on the main site. But it was only a half-commitment to the pay model, since non-subscribers could read Real Money for free through a number of easy work-arounds. All it took was a Google search, a click from a story posted on Yahoo! Finance, or even reading TheStreet.com, which provided free links to Real Money articles.
In 2016, Margaret De Luna joined as president of the TheStreet.com, realizing that while the paywall had been put up, it was never tested to ensure it really worked. That's what De Luna set out to do, finding that at times, nine out of ten people that came to the site were not logged in, meaning they were getting the stories gratis. That's when they cut off the links from TheStreet.com to Real Money stories, to see if it would hurt traffic and revenues. After making the switch, they saw "immediate increases in signups for Real Money," says De Luna.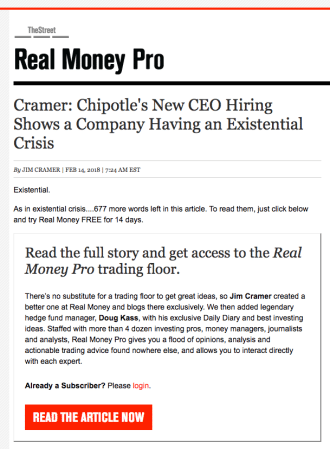 "We have definitely shifted the consumer strategy, investing a lot more in the premium side of the business," De Luna adds. "That long-term [customer] is much more valuable," but it's a balancing act with advertising.
Part of the reason media companies are going with paywalls is because of the changing nature of advertisers. What works one day (for decades in the case of magazines and newspapers) doesn't the next. Thompson believes Wired's journalists hoped the paywall would protect them from the uncertainty that adjoins advertising demands, along with the clickbait they felt it forced them to create.
"Journalists are more scared about the advertising industry," said Thompson, "and they think about the business model, for good and ill, but mostly for good."
It's also about putting the fate of these publications back in their own hands. Digital ad spending rose 23 percent to $40 billion through six months of 2017, according to the Interactive Advertising Bureau, but eMarketer estimates that 63 percent of that spending went to Facebook and Google. This pits publishers in competition with the platforms who provide them traffic. Journalists and publishers are aware of just how much they're relying on the duopoly, which accounts for 70 percent of referral traffic to publisher sites, according to digital analytics company Parse.ly.
Being at the whim of these two platforms isn't a recipe for long-term stability. Plus, more publications have shown it can work. The Wall Street Journal developed one of the original paywalls, and digital-only readers grew by 29 percent in the fourth quarter of 2017 to 1.4 million subscribers. The struggle—and fear when installing a paywall—is how to get new subscribers. This is a particular conundrum for attracting younger readers that often haven't shown enthusiasm about ponying up a few dollars a month for a subscription.
Suzi Watford, chief marketing officer for the WSJ, says that for a number of years, it was difficult to attract "new, younger paying audiences amidst the transition of print to digital." However, as more sites demand funds for information, the more willing this group has been to pay for the content. Watford says that the WSJ has more student digital sign-ups than ever before.
It's something TheStreet.com thinks about as well. With their typical reader in their early-to-mid 50s, the puzzle is finding "what the product is that the [35-45 year olds] will pay for," says De Luna.
Wired will use newsletters to help provide a daily reminder to sign up, Thompson says. They also re-launched BackChannel, which provides long-form online stories, along with a vertical called 'Ideas,' which focuses on new strategies and ambitious thinking penned by well-known contributors, like former Reddit CEO Ellen Pao and head of MIT MediaLab Joi Ito. It's not just a commitment to a paywall. It's also a focus on excellent content.
"It's aligning economic incentives with journalistic incentives," adds Thompson.