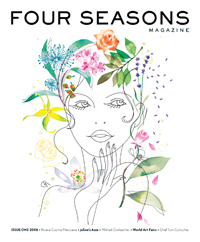 Pace Communications has announced the relaunch of Four Seasons magazine, a quarterly that will be distributed to each room in the luxury hotel's 75 locations, spanning 31 countries.
The magazine is targeting the "refined, sophisticated tastes" of Four Seasons clientele, with brands including Gucci, Louis Vuitton and Prada advertising in the first relaunched issue. The title features an oversized format and a redesign developed, in part, by Luke Hayman of Pentagram design firm. Duncan Christy, a veteran editorial director at Pace, will lead the editorial team, including executive editor Susan Weissman and design director Jaimey Easler.
According to Pace's chief marketing and sales officer Craig Waller, the magazine is the first step in its plan-"to develop and increase the impact and reach of Four Seasons as a media brand." The next step, he says, is to "assess an integrated approach to developing their media brand across all platforms.
The ten year old magazine was formerly published by Forbes.