Pace Communications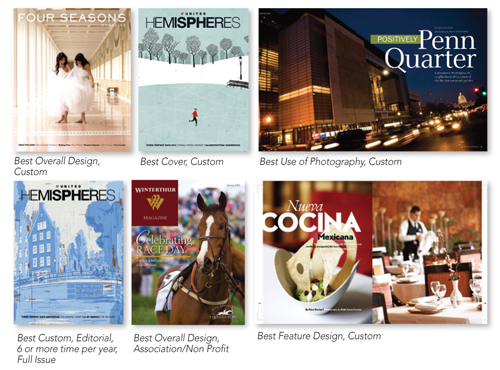 Eddie Winner:
Custom, Editorial, 6 or more times per year, September 2007, Full Issue
Ozzie Winner:
Best Overall Design, Custom;
Best Overall Design, Association/Non-Profit;
Best Feature Design/Custom;
Best Use of Photography/Custom; Best Cover/Custom
Custom publisher Pace Communications captured a whopping 10 FOLIO: Awards this year, including one Gold Eddie and five Gold Ozzie Awards.
Pace won a Gold Eddie for Best Custom, Editorial, six or more times per year, for the September 2007 issue of Hemispheres, the inflight magazine of United Airlines. "Hemispheres is a strong edit franchise, with a strong brand feel to it," says chief marketing and sales officer Craig Waller.
Pace dedicates a full-time staff of 12 to the publication, which reaches about 2.3 million readers each month. "People are amazed sometimes, they say, 'Oh, you have regular edit folks on the magazine?" adds Waller.
Hemispheres is designed to stand out. "We publish a variety of airline magazines and we do not mix the staffs of these magazines,"says Hemispheres editor Randy Johnson. "The major airlines are big clients. They don't see themselves as homogenized entities, they see themselves as distinctive corporations with distinctive brands. There are firewalls between our own inflight magazines at Pace. We're all very competitive and we don't share staff or ideas and we try not to share writers."
Inflight magazines used to be a pretty lamentable genre, according to Johnson, who says Pace set out to break the mold. "Here you have a very elite group of people that's flying all the time and that element of audience was under appreciated," Johnson adds. "This is a group of people that deserves to be addressed in a serious way with serious content. There are a lot of writers that specialize in inflight. We don't want inflight writers, we want great writers."
Defining Features
Hemispheres is defined by several signature editorial features, including "Three Perfect Days," which profiles three days worth of activities in select areas. The "Artist's Showcase" offers a six-page collection of fine art and photography in each issue. "Row 22" focuses on stories involving travelers sitting in seats A and B. That department prompts thousands of letters each month and its stories have been reprinted in anthologies such as "Best Mystery Writing." "This is an audience that sees a lot of fluff—we try to do better," says Johnson.
GOOD
Stationery Trends
The Nature Conservancy
Billboard
Travel + Leisure
ELDR
MonkeyDish.com
Oklahoma Today
BusinessWeek
Technology Review
Time.com
Meet the Author
---