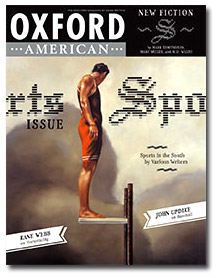 The former operations manager of the Oxford American literary magazine is facing jail time after being arrested for allegedly embezzling at least $30,000 from the Arkansas-based non-profit publication.
"This is a hurtful kick we sustained," founder and editor Marc Smirnoff tells FOLIO:. Oxford American is located on the University of Central Arkansas campus. "We're a poor non-profit. Losing $5 hurts. She essentially emptied our bank account, so we have to rebuild from scratch."
The former employee, Renae Maxwell, who is 41, was arrested by university police last week. Maxwell had attempted to flee, Smirnoff says, following a confrontation with magazine publisher Ray Wittenburg.
According to Smirnoff, Maxwell, who joined the magazine in June, had issued company checks to herself by forging the name of a former employee. "The majority of checks were deposited in December and January, but we see the activity started as far back as September," says Smirnoff. Wittenburg confronted Maxwell after a number of company checks that were made out to Maxwell but were returned due to insufficient funds.
The magazine staff is working with authorities to determine the full extent of the alleged theft. "We know there's about $30,000 gone from the forged checks but we don't know yet what else might have been taken," Smirnoff says. "When you suddenly find yourself dealing with an embezzler, you have to double check everything as far as the finances go. You can't trust anything."
Maxwell, who reportedly faces up to 30 years in jail, was released Tuesday on bond and is set for a pretrial hearing March 13. The University of Central Arkansas Police Department did not immediately return requests for comment.
Smirnoff founded the Oxford American literary magazine in 1992 in Oxford, Mississippi. It folded in 2002, but was relaunched soon after in Little Rock, Arkansas. The magazine folded again a year later but was re-established more than three years ago as a non-profit on the university campus.
It's still too early to know exactly what financial repercussions the magazine will experience as result of the alleged crime and whether or not the magazine will need to lay off any of its employees, Smirnoff says. "This is going to be a footnote in our history. We're not going to let this incident define us."
Maxwell could not be reached for comment.