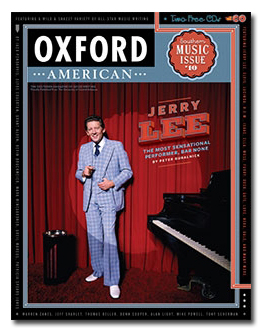 After months of negotiations with the Internal Revenue Service over thousands of dollars owed in unpaid taxes, non-profit literary magazine the Oxford American Friday received a much-needed surprise: a donation of $100,000.
"It was an extraordinarily generousl gesture," publisher Warwick Sabin told FOLIO:. "Without it, we might have gone out of business."
Sabin said the donor, who wished to remain anonymous, is a graduate of the University of Central Arkansas, where the magazine is published. "The donor indicated that they had been reading the magazine since its inception and was glad that it is located on campus," he said. "The donor saw this as an opportunity to support both the university and the magazine."
The Oxford American was founded in 1992 in Oxford, Mississippi. It folded in 2002, but was relaunched soon after in Little Rock, Arkansas. The magazine folded again a year later but was re-established four years ago as a non-profit on the university campus.
Digging Out After Alleged Embezzlement
In February 2008, Renae Maxwell, Oxford American's former operations manager, was arrested for allegedly embezzling at least $30,000 from the magazine. At the time, founder and editor Marc Smirnoff told FOLIO: hat Maxwell had issued several company checks to herself by forging the name of a former employee. (Maxwell reportedly pleaded not guilty and is free on bail, pending a defense-requested mental evaluation. A status hearing is set for March 2.)
Now, Sabin said the amount could be as high as $200,000—$57,000 of which is owed to the IRS in federal payroll taxes.
On Thursday, Sabin sent an open letter to the media announcing, in part, that if the magazine was forced to make the lump payment it "would not be able to pay its employees, its writers, its vendors, or any other creditors" and "would have to cease its operations."
"I was hoping the story would get to someone higher up in the IRS who might be able to help us set up a reasonable payment plan," Sabin said.
The donor, Sabin said, requested that $57,000 of the pledge be used to pay the IRS.
Sabin said the magazine's financial future depends on the findings of an accounting firm that has been working for several months to "reconstruct" of the magazine's financial books following the alleged embezzlement.