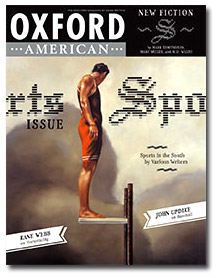 Nearly two months after its former operations manager was arrested for allegedly
embezzling at least $30,000
from Arkansas-based non-profit Oxford American magazine, its board of directors has accepted a $140,000 loan from the University of Central Arkansas, where the magazine's offices are located.
As part of the loan agreement, publisher Ray Wittenberg took a 50-percent salary cut and was moved to advertising development director. Warwick Sabin, the university's associate vice president of communications, was named publisher—effectively giving the university direct control of the magazine's business operations.
"The embezzlement was a tremendous blow," Wittenberg says. "I think Warwick has stepped up and I completely understand the change."
In addition to Sabin's appointment as publisher, the agreement states that the $140,000 loan must be repaid within six months, and is interest free. The magazine will use the funds to pay off several debts, including printer fees and old contributor invoices, Sabin says. The magazine also owes $28,000 in state and federal payroll taxes that went unpaid in association with the embezzlement case.
"The magazine has suffered several financial setbacks over the course of its life, but the issue has never been one of quality or the loyalty of readers and subscriber base," Sabin tells FOLIO:. "It's always been an issue of finances and business management."
The Oxford American literary magazine was founded in 1992 in Oxford, Mississippi. It folded in 2002, but was relaunched soon after in Little Rock, Arkansas. The magazine folded again a year later but was re-established more than three years ago as a non-profit on the university campus. The magazine has a 20,000 paid circulation, Wittenberg says, with an additional 10,000 newsstand.
In February, Renae Maxwell, the magazine's former operations manager, was arrested for allegedly
embezzling at least $30,000 from the magazine
. At the time, Oxford American founder and editor Marc Smirnoff told FOLIO: hat Maxwell had issued several company checks to herself by forging the name of a former employee. Maxwell could have taken up to $75,000, Smirnoff said.
Police are still investigating the case and a pre-trial hearing is set for May. If convicted, Maxwell reportedly could face up to 30 years in prison.