Overheard at the FOLIO: Show

A collection of soundbites from our annual conference.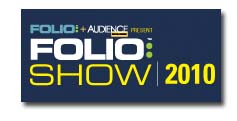 The following are quotes from various sessions, keynotes and elsewhere during the 2010 FOLIO: Show, which took place this week in New York City. Below that is a collection of tweets from attendees about the show.
Quotes from the Show:
"If you're not actively thinking about creatively destructing your brand then someone else will." – David Nussbaum, chairman and CEO, F+W Media
"Invest in technology? That's a terrible idea." – Jason Brightman, director of Web design at IDG's PC World and Macworld, on how technology evolves so quickly (the better investment, he says, is in clever people).
"We imagined ourselves as a venture-backed standalone startup that would attack The Atlantic in print—as a digital insurgent." – Atlantic Media president Justin Smith on relaunching The Atlantic's Web site.
"Nothing happens if you don't have a strong magazine in print. It drives the entire machine." – Michael Clinton, chief marketing officer, Hearst Magazines
"You are only as good as your click-through rate." – Karthik Krishnan, senior vice president and general manager, Elsevier's Pharma Solutions, on online advertising.
"I bought everyone those 'That was easy' buttons from Staples and told them to press this and we're good to go." – Debbie Klett, associate publisher of Mom Magazine, on finding sales solutions for a client.
"Using Apple is like living in a gated community. It also turns out that it's a really nice place to be." – Brightman on Apple's closed propriety approach.
"As an industry, we've done a really good job of devaluing our content." – Nussbaum
"I don't know who's hurting more—the people who hung around the wine bar last night or those who did the Fun Run this morning." – FOLIO: executive editor Matt Kinsman, while introducing the Wednesday morning keynote.
"I bake brownies for all of my exhibitors. It's all about passion." – An attendee on keeping event sponsors happy.
From Twitter:
@danielrmccarthy: Big crowd at the opening session of @foliomag show. Nice to see the energy after a year hiatus.
@bestaudiences: Erick Qualman author of http://socialnomics.net/ did a fantastic job speaking at #folioshow. Possibly the highlight of the show.
@semmerson: Amazing keynote this am by Justin Smith at #folioshow on reinventing The Atlantic. Keys: go digital-first, differentiate via brand strategy.
@CathyOlofson: HBR's Josh Macht on paywall strategies–channels Henry Ford and cautions against just giving customers a "faster horse" #folioshow
@DanBlank: About to present at the #FolioShow. View from the podium http://twitpic.com/1vaewd
@AudDevMag: 'Spoon' and 'Eat' were among discarded titles for Food Network mag, says Hearst's Michael Clinton. #folioshow
@MagMe: Good second day at the @foliomag show! liking this trade show buzz
Meet the Author
---