The media M&A market saw its third year in a row of growth, closing out 2011 with a 9 percent increase in total value over 2010, according to a year-end report by The Jordan, Edmiston Group.
There were 896 deals done, says the investment bank, 15 more than 2010 and more even than in the blockbuster year of 2007. Total value, however, still hasn't come close to that year. In 2011, the deals represented $47 billion in value, up $4 billion from 2010, whereas 2007 saw $104 billion in deals done.
A key trend in 2011 was marketing and interactive services, which represented 32 percent of total deal value and accounted for 17 of the 32 biggest deals, and a third of total transaction volume.
And while expectations remain high for private equity, strategic buyers were decidedly more acquisitive. Out of the 32 largest deals (more than $400 million), 24 were done by strategics.
Sector by sector—JEGI tracks 10—exhibitions and conferences recorded a 249 percent increase in deal value over 2010. There were 32 deals totaling $451 million. JEGI points out that the fourth quarter marked quite a bit of activity from strategic buyers, with UBM, Bonnier, Diversified Business Communications, PennWell and Reed Elsevier making deals.
Consumer magazines also had a busy year with 32 transactions valued at $3.2 billion, a huge jump over 2010's $214 million deal value.
B-to-b media was comparatively quiet, recording only 14 deals and $50 million in value—a 62 percent and 91 percent decline from 2010, respectively. B-to-b online media and tech, however, spiked appreciatively in value. The year's 63 deals were 2 more than 2010, but value jumped 132 percent to almost $6 billion.
Interestingly, mobile media and tech declined slightly in volume with 72 deals done in 2011 versus 77 in 2010, but value jumped 37 percent to almost $2 billion.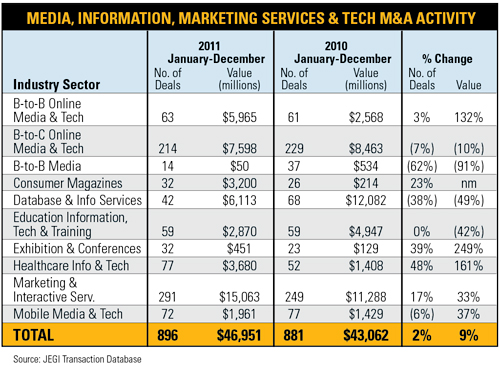 An Optimistic Outlook for 2012
While JEGI expects deal activity to be "vigorous" this year, AdMedia Partners' 18th annual "Merger and Acquisition Prospects for Media and Marketing Services and Technology Firms" survey concludes that the activity from 2011 will indeed spill into 2012.
According to the survey, two-thirds of respondents said they were approached by a strategic and/or financial buyer in 2011, and 59 percent of respondents expect to look for an acquisition in 2012, which is up from 40 percent from last year's survey.
Companies are beginning to think they're ready to sell as well, with 48 percent of respondents indicating they're thinking of selling in 2012, much more than the 36 percent who said as much last year.
Funding and Multiples
The strategic buyers will continue to dominate the deals, with three out of four respondents saying strategics will be up in 2012, as they were in 2011. Capital is ready to be put to work, with 55 percent of respondents saying they'll fund acquisitions using cash reserves. Private equity will still be a player, however. Forty-three percent of respondents say they plan to raise outside equity. Twenty-seven percent say they plan to use debt financing.
EBITDA multiples are generally in the 6x to 8x range, depending on the sector. Marketing services, which has been a hot sector, will achieve 6x-8x multiples, say 47 percent of respondents. Sixty percent of respondents say digital media will command 8x or greater multiples. Mobile and social marketing are each expected to fetch 7x multiples, according to the majority of respondents.
The future isn't so bright for traditional magazine companies, however. "I think it's very hard to sell a magazine company now," says Seth Alpert, managing director of AdMedia Partners. "It's been done—obviously the Hearst/Hachette deal was the big consumer media event of 2011. But I believe that was driven by cost synergies as much as anything else. So it was financially-driven and I think that's quite the exception."
Alpert notes that for valuation expectations 69 percent of respondents for both consumer and b-to-b media believe multiples will be 6x or less. About 50 percent of those same respondents think multiples will be 5x or less. "I'd say there's a very pessimistic outlook on those kinds of deals," says Alpert. "That is, in my view, what is driving interest in online content companies."
2011 a Slow Year for Domestic Event M&A
The year 2011 was slow one for domestic trade show and event mergers and acquisitions, according to Connecticut-based trade show M&A broker Corporate Solutions. The firm tracked 10 deals done during the year in the U.S., which is a slight increase over 2010's eight deals.
Most of the deals were small, single-event transactions with the exception of the sale of Pri-Med to Diversified Business Communications. If you're wondering about Providence Equity Partners' acquisition of GLM from U.K.-based Daily Mail & General Trust for $173 million in September, it didn't make Corporate Solutions' list, which focuses only on purely domestic deals among trade show and media companies.
While economic conditions haven't been favorable for event deals, the fourth quarter saw an uptick of deal activity—two deals were completed in November and two in December.
Also, the deal pipeline may be poised to begin filling up. "For the past several quarters we are not only seeing an increase in the amount of buyers looking for quality trade shows to acquire, but finally an increase in show producers interested in selling trade and consumer events," says Nick Curci, president of Corporate Solutions.
Strategic buyers, rather than financial buyers, were driving most of the transactions.
Multiples have not recovered after getting crushed during the recession, going from 10.5x EBITDA in the heady days of 2005-2007 to 5.5x in 2010. Lately, however, multiples have been creeping up, with an average of 6x EBITDA in 2011 and a forecasted 6.5x in 2012. Larger media companies are commanding the higher range of multiples, 6x-7x, versus small media companies at 4x-5x and consumer shows at 3x-4x.