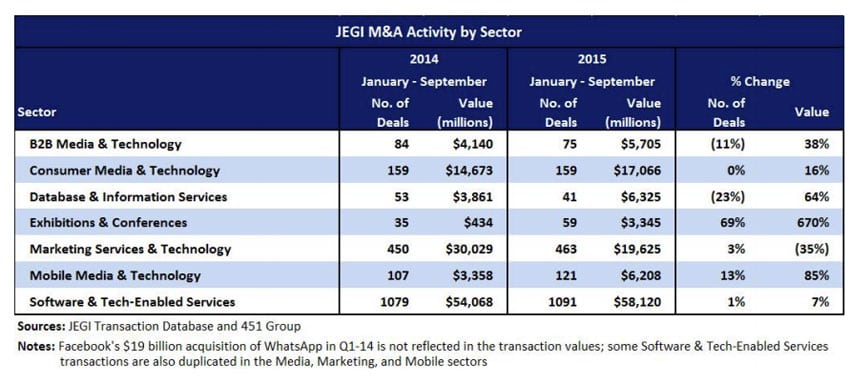 B2B and consumer media and technology sectors saw mixed results with deal activity for the first three quarters this year, but overall deal volume and value continued to climb, according to M&A advisory firm the Jordan Edmiston Group.
In an M&A market that shifted for a while to favor marketing services-oriented deals, JEGI's report shows that the software and tech-enabled services category has emerged as the sector to beat. It accounted for more than half the deal volume and value in the first three quarters of 2015, per JEGI numbers. Within that category, 32 percent of the deals were in the application software segment, which includes advertising enablement tech, business intelligence, CRM, ERP and vertical applications.
JEGI points to a stable U.S. economy as a major factor influencing the continued rise in aggregate deal volume and value. And the firm is optimistic that the debt markets will continue to be strong despite the pending interest rate hikes by the Fed.
In the B2B media and technology category, deal volume shrank from 84 to 75 transactions in the first three quarters of 2015 compared to same period last year. But deal value grew, anchored by the $1.3 billion Nikkei/Financial Times deal, LinkedIn's $1.5 billion acquisition of Lynda.com and Exor's 39 percent stake in The Economist Group.
Consumer media and technology deal volume was flat during the first three quarters, but edged up 16 percent in value and highlighted by Media General's $3.1 billion bid for Meredith. That deal, however, has gotten much more interesting after a Nexstar bid to take over Media General, which would negate the Meredith acquisition. As Media General mulls the Nexstar proposal, noting that it's since hired Goldman Sachs and Weil, Gotshal & Manges to assist, its board of directors continues to recommend sticking with the Meredith transaction.
While not even close to the software and tech-enabled services category, events experienced huge growth in volume and value, making it the fastest growing segment in those two factors. Deal volume in exhibitions and conferences jumped 69 percent and value shot up 670 percent.