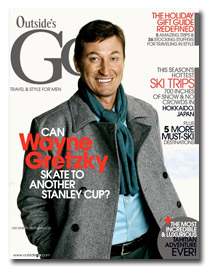 After drastically reducing
its frequency in November, the publisher of Outside's Go plans to increase its frequency for 2009—but with digital
editions instead of print issues.
The Mariah Media title will add two Zinio-powered digital issues to its two existing print issues. Go will also raise its rate
base to 235,000 this year.
Why would a magazine that cut its frequency decide to increase it—albeit with
digital issues—two months later?
"Like most U.S. publishers, we are responding to the tough economic
times by preserving our resources and reducing our frequency while at
the same time exploring other options for maintaining our brand
awareness among readers and in the ad community," Christine Salem,
Go's managing director, wrote in an e-mail. "Digital
issues are a great solution: We can present our content in a magazine
format, we can enhance the content and the advertisers' message with
rich media, and the format is certainly more economical and
environmentally friendly."
Salem said that the company believes digital editions will
become an important part of the mix for publishers going forward,
especially as wireless reader devices become more popular. "It's an
opportunity to get our feet wet early on and help build user and
advertiser acceptance."
Because Go's circulation is a mix of paid and controlled, each
subscriber group's orders will be fulfilled differently. The digital
issues will be considered "bonus" issues for paid subscribers, and for
those whose e-mail addresses are on file, they will receive the digital
issues, but their subscription term will be fulfilled with print
issues.
Salem added that the company fully expects to restore Go's
bimonthly frequency in 2010.