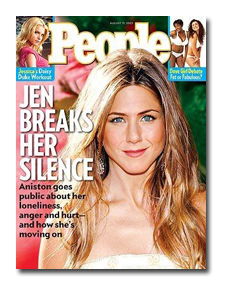 The consumer appetite for celebrity news has exploded in recent years. But shortsighted strategies, poor management and the recession have hit traditional celebrity media hard—so hard the nine magazines covering the space is too many, consolidation is inevitable as advertising and circulation erodes, and even the market's dominant Web sites should be "looking over their shoulders."
This, according to a new report from DeSilva + Phillips, a New York-based media banking firm, released today.
The rise of "feisty online alternatives" and the recession have sped up the decline of some celebrity media franchises, according to the report. But "timid magazine management" is also to blame.
As a result, celebrity magazines "have the most to lose" in terms of audience and revenues—"and they will certainly lose the most in the years ahead." People, the report notes, is perhaps the only magazine to prove itself as a multi-platform leader—accounting for 24 percent of the category's print circulation, 28 percent of its ad pages and "an eyebrow-raising" 43 percent of its revenues.
Even People, however, has "to face the same nagging issues: the segment's dwindling readership base, the buyers' market for advertising, and cost pressures across the board that are painfully compressing margins," the report said.
Celebrity Media M&A
The report points to the $1 sale of TV Guide, a magazine that once was acquired by Rupert Murdoch for $3 billion, as emblematic of the erosion of print's value. "How [a] magazine is worth nominally .000000001 percent of what it was 20 years ago is a story for a B-school case study," D+P managing director Ken Sonenclar, the author of the report, wrote. "But what's most noteworthy now is that the sale excludes TVguide.com and the TV Guide Network cable channel, which were sold separately in January to Lions Gate Entertainment, the Vancouver-based film company, for $255 million. That's where the seller realized growth and value."
In terms of the future of celebrity media M&A, "select Web sites"—such as perezhilton.com—"should be acquisition targets" as they appear to resist the recession's downward pull and continue to attract eyeballs and advertisers."
But "few gossip sites" have built the kind of loyal audiences or barriers to entry to warrant serious M&A interest.
A bigger fear for celebrity magazine publishers now is that the recession will end much differently than those in the past. Specifically, even when the economy eventually recovers, advertisers will direct their budgets to the Internet and television—and away from magazines. "The fear is justified," Sonenclar wrote. "Magazine publishers' eventual recovery will be slow, painful, and partial at best."
He added: "Long-term winners online will have roots in print, TV and the web—and so will the losers."