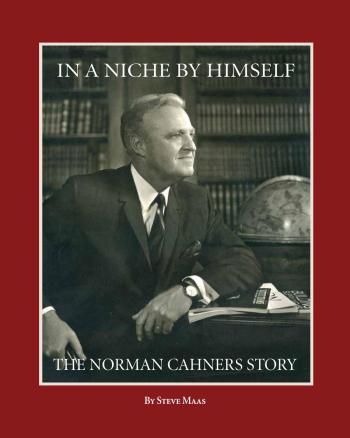 In 2015, journalist Steve Maas published a biography of Norman Cahners, "In a Niche By Himself: The Norman Cahners Story."
We loved the book, and asked Steve if we could excerpt it here. Steve agreed. His book, available for purchase here, is a window into a life and era that's worth spending some time with. Our first excerpt covered Cahners' pioneering of the "niche concept." Here's the second of several parts, this one describing what it was like to work with Cahners. We're sure you'll see reflections of your own bosses and work environment in the descriptions below.—Tony Silber
---
What was Cahners like as a boss? It's much like asking what he was like as a parent. Every relationship was distinct. Here are five perspectives from long-time employees, ranging from a top financial officer who was plucked from a shoeshine stand to a spirited Brit who didn't hesitate to give Cahners a piece of her mind.
Shining success

As a high school student in the late '50s, Gerry Walsh earned extra money shining shoes at the barber shop of what was then the Statler Hilton (now it's the Park Plaza). Cahners, who worked a few minutes' walk away, was a regular. Since customers had to book their appointments, Walsh learned all of their names. When "Mr. Cahners" was on the schedule, Walsh made sure to make himself available for this impeccably dressed ("like he was ready to pose for Vogue"), but completely down-to-earth client. The two struck up a friendship – the Charlestown schoolboy and the Harvard-educated publisher. Walsh said Cahners took a genuine interest in his life, though he was just "a kid." "He was trying to force me into thinking about something other than shining shoes," Walsh said. "I was making plenty of money, but I certainly didn't want to stay shining shoes all my life."
Cahners told him about his company and encouraged Walsh to consider working there. Other customers had made similar offers, but Cahners struck Walsh as the kind of person he'd like as a boss. "He was a serious person," Walsh said. "What impressed me the most was that he was very cordial to everyone. Not all customers are like that." After graduating Charlestown High in 1958, he went to work in the Cahners mailroom. At the time, the company occupied just the top two floors of the Columbus Avenue building and published only two magazines.
"When I first started, I tried to absorb as much information as I could," Walsh said. "I didn't know what I wanted to do with it." He was in the perfect position to learn all about the business. His daily routine took him to all the departments, where, for him, "everybody was a teacher." Recalling the camaraderie of those early years, Walsh said, "We were just people trying to grow a company, trying to do our part. We all knew what the goal was." Cahners occasionally stopped to chat with Walsh in the mailroom, which was a shortcut to the men's room. He would ask Walsh how the job was going, whether he was happy and, inevitably, if he was making plans to go to college. Within a couple of years, a position opened in accounting, and Walsh was promoted. At first, he did basic record-keeping, but then took on more challenging tasks, coached along by colleagues. Meanwhile, he went to night school at Bentley College. The company's tuition-reimbursement program footed much of the bill. After a decade, he earned a degree in accounting and finance. Walsh was the first college graduate in his family.
As the company grew, Walsh rose in the ranks. He gained a reputation among executives as numbers guy who could speak plain English. And with the passing decades, his institutional memory became invaluable. When he retired in 1993, Walsh held the top financial post in the magazine division.
"This idiot young kid"

Gene Pritchard started out selling ads while based at Cahners's Cleveland office. When Pritchard was hired in 1959, he already had four years' experience in sales. He stood 6-feet-4, but looked a decade younger than his 29 years. When he made his maiden trip to the Boston headquarters, Goldweitz took one look at Pritchard and then lit into the man who had hired him, Sears Hallet. "Saul puts me over in an office on the 7th floor and then starts yelling at Sears," Pritchard recalled. Even through the door, he could hear Goldweitz berating Hallet for hiring "this idiot young kid instead of a salesman."
After Goldweitz calmed down, he invited Pritchard out to dinner and told him that he would start off by training with a more experienced salesman. But when Pritchard heard about that salesman's technique, he balked. "I said no. He doesn't sell the way I do." After "this terrible argument," Pritchard realized he was fighting a losing battle; the trainer, Gerry Glass, was married to Cahners's sister. Back in Cleveland, Glass both impressed and infuriated Pritchard. When the pair visited the Glidden Paint plant to pitch the industrial paint executives, they got lost and wound up in the marine paint department. Even though the magazine they represented had nothing to do with boats, Glass still managed to sell an ad, much to Pritchard's chagrin. Afterward, as they wandered back through the Glidden maze, the two quarreled over the appropriateness of the sale. Despite the inauspicious start, Pritchard won over management and within a few years was posted to the Boston office. "I was determined to make Saul Goldweitz my friend," Pritchard said. "He became a real mentor of mine. I love the guy." As to his feelings toward Cahners, "love" may not be quite the right word. On some occasions, other four-letter words might have come to Pritchard's mind. But in the end, admiration and awe would best describe his attitude. "Norman was an extraordinary guy, but he was a very difficult person to work for," Pritchard said. "Very difficult, mostly because he was so damn smart. You could almost subtitle your book 'the relentless search for perfection.'"
Pritchard mainly dealt with Cahners when crafting a pitch for selling advertisers on a particular magazine. "It sounds like an easy thing to do: sit down and write four paragraphs about the publication," Pritchard said. "You could spend four days working on those four paragraphs." Those four paragraphs spelled out how the magazine had systematically targeted key decision makers in a designated market, provided them with the best editorial content on the planet and rewarded its advertisers with a wealth of sales leads. Accompanied by flip charts and perhaps slides, the presentation was supposed to last about 10 minutes and leave potential clients totally convinced the magazine dominated its niche.
Pritchard said he participated in dozens of pitch conferences. Not once did Cahners accept a proposal on the first go-around. "You'd talk about A, B, C on Monday, and you'd go back Tuesday with the corrected A, B, C, and he's got D, E and F," Pritchard said. "He was constantly thinking about these things and going in new directions." Cahners expected the same of his staff. "It demanded that you think through the process in exquisite terms," Pritchard said. "It wasn't that he was wrong or going off in left field. He had better thoughts in many cases." After three exhausting days, Cahners would sigh and say, "This is OK, but it's by no means what it should be, but you'll have to use it." Cahners, however, must have been impressed by Pritchard, who eventually was entrusted with visiting the company's regional offices to help new publishers master their sales presentations.
On these road trips, he was struck by how Cahners was perceived by employees who only saw him from a distance. He recalled one sales representative in Cleveland who at lunch went on and on about what a "wonderful guy Norman was." The rep was surprised when Pritchard told him about what a stickler Cahners could be. "Norman was wonderful [when] he would go to Cleveland and visit the office," Pritchard said. "Saul got the reputation of being the tough guy." It was Cahners the charmer that Pritchard last encountered. "A few months before Norman passed away, I was meeting with Walter Cahners and some other Cahners executives in the Newton office to pitch a possible acquisition," Pritchard recalled in an email. "We were sitting in a glass-walled conference room, and I looked out to see Norman walking down the hallway, wearing a long black winter coat and a black homburg hat. He saw me, smiled, came into the office saying 'Gene, how nice to see you' and 'how are you doing.' "I had not seen Norman in about 15 years, and he was obviously not well. But I was just plain thrilled that he remembered me and took time to say hello and chat. It was an unforgettable moment, and my chance to say goodbye to the unforgettable man who gave me so much."
"Dad has your back"

Terry McDermott said that in 1969 when he left McGraw-Hill to work as an ad salesman at Cahners, some colleagues asked, "Do you realize you're going with a Jewish company?" McDermott said he found that question to be "terribly offensive," but not surprising. "McGraw-Hill at that time was very anti-Semitic," he said, adding that the prejudice wasn't "virulent," but more of the kind spoken of in whispers and asides. "McGraw-Hill at the time was kind of a silk-stocking company, East Coast, Conn., country club company," said McDermott, who eventually rose to become president at Cahners.
"You could tell a McGraw-Hill guy," he said. "One boss had a fetish that people had to wear fedoras." McDermott said he got an earful because he didn't. By contrast, there wasn't a "Cahners guy," he said. "You could be short, tall, fat, Irish, Italian, Jewish – it didn't matter." Although the company had grown to well over 600 employees, Cahners himself interviewed McDermott as part of the hiring process. After moving through the usual questions about his educational and work background, Cahners probed into McDermott's values. He asked what was important to him, why he wanted to work in publishing, whether he thought advertising was a valid career. He wanted to know about McDermott's biggest clients and what he thought of them. "I was impressed that unlike people who run down a checklist, with Norman it was more like a long, friendly conversation, but obviously the interrogation process was going on at the same time."
Over the years, McDermott would hear stories of outbursts on the seventh floor, but he mainly saw Cahners's nurturing side. "Norman wasn't exactly cuddly," but he was "always very cordial and very supportive," McDermott said. Being half his boss's age probably worked to his advantage, though McDermott's relative youth did lead to one awkward moment. Laughing, he recalled a party Bill Platt hosted for the company's Boston division at his home in Wayland. "I remember Norman walking over to my wife, who at the time was 28, and saying, 'My God, how old are you?' "Helene looked at him like, 'Norman, where are your manners?'" "And, of course, my poor little wife flushed, and he said, 'Well, excuse me, but I have children who are older than you are.'"
After starting out as an ad salesman, McDermott edited a magazine and then returned to sales and marketing. In the mid-'70s, he was posted to the Chicago office as publisher of Building Design and Construction. At the time, the magazine was a basket case, losing $60,000 a year. When Cahners was in town, he met at length with McDermott about the prospects for the publication. "He said, 'You know, Terry, very honestly, do you think you can turn this thing around? I don't really want you to use up your energy and enthusiasm and creativity on something that may be an impossible task.'"
McDermott said he assured Cahners that he could pull it off. He knew the market from earlier in his career when he worked for McGraw-Hill. "I think it is very salvageable," he recalled telling Cahners. "I think it's an opportunity to learn how to publish well." Cahners then smiled and said, "Well, whatever happens, don't worry about it, you'll always have my support." That's all he needed to say. "When you're a young guy getting your first magazine," McDermott said, "it's nice to know that Dad has your back."
Walking out on the boss

Bill Platt recalled the time he stormed out of Cahners's office after firing off a few choice words. Platt—who had come to Cahners Publishing in the early '60s when it acquired Rogers Publishing—was then head of the company's Boston-based magazines. A burly force of nature—known as the "tank commander" because he served as one in the peace-time army of the '50s—Platt was revered more than feared by his employees because they knew he would stand up for them.
A new publisher of Plastics World was preparing his sales presentation, and Cahners had told Platt he wanted to hear it. Platt asked Goldweitz to listen to the presentation "before we walked into the lion's den." After making a few minor suggestions, Goldweitz, Platt and the new publisher went into Cahners's office. As they all sat around the ship's wheel coffee table, the fledgling publisher auditioned his spiel. "Halfway through, Norm cut the presentation off, saying, 'You have missed the whole point of what I've been trying to tell you. You didn't follow the niche concept,'" Platt said. "The publisher was sitting there, and he didn't know what to do. So I picked up the presentation."
Platt then presented a methodical defense of his publisher's work. "That's the first point of the niche concept, am I right?" Platt said, pointing to a poster board. Cahners agreed. Platt then proceeded to cover the rest of the proposed pitch in a similar question-and-answer fashion. "Three out of four of the basic parts of the presentation he agreed with, but he didn't agree with the ending," Platt said of Cahners. "I took all the charts, put them all together, and said to my publisher, 'Come on, Jack, we're out of here.' "And Norman said: 'What do you mean you're out of here?' "And I said, 'We're done, Norman. I'm not going to take any more shit.' "And he looked at me. Saul looked at me, and I walked right out the door, went downstairs to my office, put my coat on and took the publisher out to lunch." Platt didn't return to the office after lunch. When he got home, his wife told him that Goldweitz had been trying to reach him. After a discussion over whether he should return the call, Platt decided he would.
Goldweitz told him, "I really could not believe you picked up everything and walked out of the room." "Saul, do you blame me?" Platt responded.
"No, I don't blame you," Saul said.
"You were the one who went over the presentation, and you didn't find the fault he said was wrong," Platt said. And Saul responded, "You're right. That's Norman."
In the end, Platt and the publisher revised the presentation. They got Goldweitz's approval, but didn't show it to Cahners. "I think Saul got to Norman and said, 'Norman, you can't continue doing this. Platt's running this division.'"
Platt stressed that he remained a big believer in the niche concept. "I have to tell you," he said, "if I were starting a publishing company tomorrow, the first thing I'd do is use the niche concept. It's a wonderful way of selling advertising." But he criticized Cahners for clinging to a one-size-fits-all approach. While it worked beautifully for a magazine like Metalworking, where the market is a clearly defined industry, it had to be altered for, say, a medical magazine, where the market was more diffuse. After the British had complete ownership of the company and his power was waning, Cahners continued to stump for the niche concept. Matters came to a head, Platt said, during a meeting of top executives held on Cape Cod. As a speaker unveiled a new sales presentation for a floundering magazine, Cahners interrupted. "If we were to follow the niche concept with this magazine, we wouldn't be having the problems we're having," Cahners declared, according to Platt's recollections. The president of the British parent company then stood up and asked Cahners to step out of the room for a chat. Ten minutes later, the president returned, but without Cahners. "He said to the group, 'We won't be talking about the niche concept today, ladies and gentlemen.'"
Even as he bristled at Cahners's stubbornness, Platt said he couldn't help but like and admire him. "He'd always have an opinion that was his, and you couldn't change it," Platt said. "But when you saw him later, he was a very, very nice man." And a shrewd one. "He was smart enough to let people know that he didn't know everything about that magazine or that presentation," Platt said. "He would have a little give-and-take." It didn't always have to be his way. "He'd say, 'Well, we'll see what the results are in a couple of months,' and that would be the end of the subject."
While Cahners was quick to notice if a magazine was losing ground to the competition, his first instinct was to find ways to help the managers – or find them a more suitable spot within the company. "There were a number of times when something would go wrong and the publisher would fail," Platt said. "But there were very few times that I can remember where he would say let's get rid of that person."
Echoing other former ex-Cahns, Platt said morale was high at the company. Cahners "made sure by hook or by crook that everybody was happy," Platt said. "He was in a mold of his own. Everything he tried to do in the company was for the benefit of the company. If you think about that, that was a pretty nice way to have a man working with you."
The sounding board

Marion Osman, who served as Cahners's secretary from the mid-'60s until he left the company, said she never completely figured out her boss. And that was one of the main reasons she enjoyed working for him. It intrigued Osman that a man who was so good at scoping out simple solutions to complex problems couldn't understand how others might have a different perspective from his. She said that after becoming enamored of intelligent, resourceful people, he would inevitably feel let down. "Nobody ever did things always the way he thought was brilliant. It was hard for him to deal with that disappointment."
Still, Cahners hired this feisty British secretary who from the start made clear she wouldn't be cowed. "I think that when I came to work for him, I was at a point where I didn't care a damn about anything," Osman said. "I said exactly what I thought about things, and that was exactly what he needed. He used me as kind of a sounding board."
Coming from the staid world of British business, she relished their verbal sparring. "I used to say, 'You're being such an idiot.' And he didn't care," she said. "On the whole, he respected my judgment. … And if he thought there was some sense to it … it would get incorporated into his mind. Or else we'd argue about it until we were both blue in the face. But we had a lovely time arguing." When Osman turned out to be right, Cahners would admit it, but in his own fashion. "He used to apologize to me sometimes, and the way he would do it was to say something like 'I decided to forgive you.'"
Osman said she never took the squabbling personally. She saw it as part of Cahners's struggle to understand human nature. "We used to spend a lot of time just philosophizing with one another," she said. "It always had a purpose to him. To me it was just philosophizing and enjoying myself. But he was learning stuff, finding out how another person viewed things." Their informal relationship provided fodder for office gossip. "Everybody thought he and I were having a thing going," she said, laughing. "That's the way people's minds work, right? … Of course, both of us, being the rather nasty people we were, chose not to discourage that."
Goldweitz at one point worried that she was exercising undue influence on the boss. "Saul to a degree idolized Norman, but became terribly protective of him in a way that was totally unnecessary," Osman said. "At one point he got very difficult with me." Osman told Cahners about her concerns. "He said, 'OK, don't worry. I'll take care of it.' From that day on, Saul was wonderful." Cahners's mother wasn't worried that her son was having an affair, but she cautioned him about appearances. "I think she must have said, 'Look, I know you're OK, Norman, but you've got to change a few things or you're going to get people resenting you or misunderstanding,'" Osman said. "And he did change."
Despite having worked so closely with Cahners, Osman never felt she really got to know the man beneath the surface – "only down to a certain level, not real, real in-depth emotions." She suggested that this was part of the code of behavior that was ingrained in him as a child – the same code that also made him "very honorable" and "very caring for other people." Osman had not intended to remain in the United States and wasn't shy about letting Cahners know it. "I told him that I'd be going back in three months, and he would say, 'OK,' and he'd give me a round-trip airfare. He knew damn well I wouldn't have the nerve to take it and not use the return fare," she said. "I always ended up back again."
During the late '70s, as Cahners's philanthropic and civic activities demanded more of his time, he enlisted Osman to support him. While she admired his generosity, she felt miscast in the role he intended for her. Cahners wanted Osman to manage the accounting and legal side of his charitable affairs. But she felt she had neither the aptitude nor the desire to take on those responsibilities. "This was all absolutely foreign to me. I hated the whole thing," she said. But as much as she tried, she could not make Cahners understand how she felt. Perhaps he held an idealized view that she was capable of doing anything. Perhaps he felt that if he willed her to be a certain way, she would come around. When she threatened to resign, he was stunned. "He had no idea what he was doing to me, and he went on doing it." Her resistance made him resentful. She had become another of those people who had let him down. Just as Osman was about to quit, Cahners was diagnosed with cancer. She told him, "I can't possibly leave you at this moment." After that, she said, "his personality changed again toward me, and he became the fun kind of person to work for that he had always been."