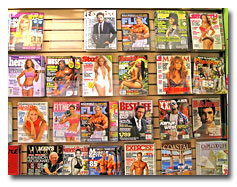 Anderson News, the wholesaler which represents more than 20 percent of mass-market magazine distribution, has announced a 7-cents-per-copy price increase on all copies
distributed.
Anderson also said that publishers must bear the inventory cost attached to
scan-based trading (SBT).
The deadline for signed agreements is
February 1. Non-compliers, the company said, will be refused distribution.
The news is just the latest blow for an industry reeling from layoffs, cutbacks and a deep advertising slowdown. On Tuesday, the Publishers Information Bureau released year-end figures which showed consumer magazine ad pages plummeted 11.7 percent, the biggest drop in more than a decade.
'The Business Has Not Been Profitable'
During a conference call Wednesday, Anderson CEO Charlie Anderson detailed his company's
requirements, which he said he has been reviewing in meetings with publishing
CEOs over the last couple days. "The business has not been profitable
and has not been for a very long time," Anderson said. "What we are trying to do is give some stability to the channel.
Short of that, there will be an implosion in the business."
Anderson said that he believes three of the four major wholesalers are
losing money, which underscores the on-the-bus or off-the-bus severity
of Anderson's position.
"The last thing we want to do is exit the business," Anderson said. "But why should
we be in a business that doesn't give us any return? We don't want to
get rich, but we want a fair return and that's all we're asking for."
The 7-cent figure represents about a 3.5 percent increase. Discussions with Comag resulted in three percent
offer and separate talks with Time Inc. arrived at 5 percent. The 3.5
percent—"a fair rate," said Anderson—split it down the middle.
Anderson said the pricing is non-negotiable ("We really belive the
seven-cent number is the number") and publishers that don't sign the
agreement will effectively be dropped from distribution.
But Michael Sullivan, president of Comag, which is owned by Hearst and Condé Nast, told the New York Post his clients have no
intention of paying. "As we understand it, Anderson's proposal is a unilateral effort to
shift substantial costs to magazine publishers and does nothing to
address the fundamental inefficiencies in the newsstand-distribution
channel."
Time Inc. said it is evaluating its options.
Scan-Based Mess
The second and likely more onerous part of Anderson's program
outlines the wholesaler's exit from bearing the costs of scan-based trading. "We are
no longer going to participate in investment of scan-based trading,"
Anderson said, and added that they had already invested $70 million
into inventories for four major customers.
Anderson noted that the greeting card industry, which also uses scan-based trading,
passes the cost on to the manufacturer. "We think it is only fair that
the manufacturer bear the cost," he said.
Currently, Anderson has SBT relationships with Wal Mart, Paradise,
Walgreens and Kroger. The latter will be online with SBT on March 1.