Organic Style Returns

Former Rodale sustainable living title finds new life online.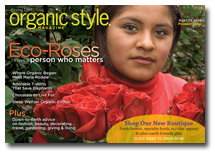 Organic Style, the acclaimed Rodale magazine that folded in 2005, has been relaunched as an online only publication.
"Digital publishing fits with Organic Style's philosophy of environmentally-responsible commerce," owner Gerald Prolman tells FOLIO:. "Also, by publishing  the  magazine online, we support our e-commerce efforts of our  associated brands."
The new incarnation will be published online using Texterity's digital publishing platform, and will feature audio and video as well as written content covering topics like eco-living, fashion, gardening and travel. The launch issue will feature an interview with Maria Rodale, Organic Style's original publisher.
Organic Style was launched in 2001 but Rodale folded the title in 2005. In 2007, the publisher quietly sold the brand to Prolman, who is founder and CEO of Organic Bouquet. Prolman launched OrganicStyle.com in November as an online boutique for eco-luxury products.
"Organic Style, as a magazine, had a huge following and was much loved by its readers—it was ahead of its time," Prolman says. "As a brand, it fits perfectly with my vision for our company, and I couldn't think of a better, more esteemed brand, to serve as the umbrella for our family of eco-luxury product companies."
Meet the Author
---