Organic Gardening Gets an Upgrade

Rodale title to expand rate base, design and content.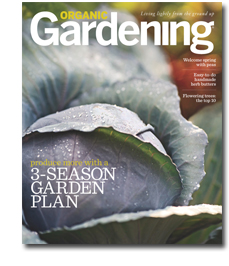 Rodale's Organic Gardening is bucking the cost-cutting trends pervading the print industry. The company is set to "relaunch" the bimonthly magazine for its February/March issue with upgraded design, paper stock and rate base.
According to Rodale, ad pages for the new issue, hitting newsstands tomorrow, have increased 17 percent versus the same period last year. Subscriptions are also up, said a spokesperson, prompting a 5 percent rate base increase to 275,00 from 260,000—the magazine's third in four years.
"Interest in both organics and gardening is growing at staggering rates and consumers seek products and companies who help them on the path to live a more natural lifestyle," said senior vice president and publisher Mary Murcko in a statement.
The magazine will feature expanded edit content for the food and cooking categories, a larger contributor pool and a larger trim size and better paper stock. The 6x frequency, previously set according to the growing season—more issues published in the spring and summer—has been reset to a true bimonthly schedule, said the spokesperson.  
The relaunch is being dedicated to Ardath Harter Rodale, wife of former CEO Bob Rodale and a former Rodale CEO herself, who passed away last December.
Meet the Author
---