Optimizing Digital Editions

Usage is growing but too many publishers are sticking to the basics.
Publisher interest in digital editions continues to grow, even as the Web site becomes the primary digital product for many. However, many publishers are just scratching the surface of what's available to them, from embedded search and rich media to back-end audience measurement, which can be used to help plan future issues as well as convert to lead generation.
The following story offers four case studies of publishers that are trying to take full advantage of their digital edition. For many, this continues to be a learning experience.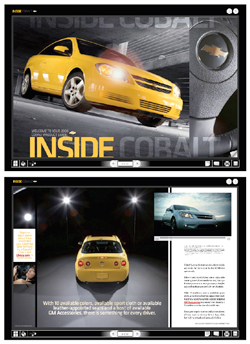 Publisher: Campbell-Ewald
Product: Custom editions for Chevrolet Cobalt
Platform: Zmags
Digital magazines are increasingly being used as a custom publishing platform. Advertising agency Campbell-Ewald tapped Zmags as the platform for a series of regionally targeted digital magazines as part of a Chevrolet Cobalt campaign aimed toward a young, tech-savvy audience. Each issue was geared to moving prospects toward readiness to buy and enable them to link directly to the Chevrolet Cobalt Web site in order to price out a custom vehicle.
"We focused on the users themselves and partnered with bloggers and Cobalt enthusiast clubs," says Joe Ferraro, art production manager at Campbell-Ewald Publishing. "The idea was to get actual users to share stories, as well as feature local musicians driving the Cobalt to and from their performances."
Campbell-Ewald incorporated rich media including videos of the cars in action and interviews with the drivers into each edition. The agency created a homepage to house the digital editions and formed relationships with some of the leading blogs, which pointed readers to their digital editions. "We didn't want to just spit out what we could do in print but do something that fit the medium," says Ferraro. "That included a lot of Flash-integration through which we created sidebars, call-outs and pop-outs. The editorial was readable and we could expand upon that edit when needed by use of Flash components to build out sidebars—we didn't have to clutter the online page with a lot of text."
Video was embedded in each digital edition much like using an image in magazine layout. "Placement of the video was integral to the magazine layout," says Ferraro.
Campbell-Ewald produced seven different digital issues for the campaign and the South Central (U.S.) component ran for more than a year. The agency partnered with several Cobalt enthusiast events and says that the digital editions helped drive a 4 percent increase in attendance and a 45 percent increase in the number of vehicles at the events.
Each element of the digital edition had a specific purpose, says Ferraro: "Nothing was ever done just because we could—we always had a strict purpose in mind."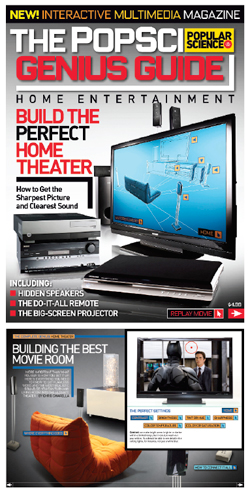 Publisher: Popular Science
Product: The Pop Sci Genius Guide
Platform: Zinio
Earlier this year Popular Science launched the Pop Sci Genius Guide, a new digital edition which the magazine intends to be at the forefront of consumer adoption of e-readers. The Pop Sci Genius Guide will be published quarterly in 2009, with the first issue dedicated to the home entertainment experience.
"We recognize that this is an extremely important direction the magazine needs to go—we're making our product optimized for digital platforms in anticipation of the launch of really good magazine-optimized e-readers," says editor-in-chief Mark Jannot. "We're figuring out how we can optimize the opportunities digital delivery gives us and how to overcome the challenges of pixels on screen as opposed to ink on paper. Our goal is to integrate features that can be done digitally while at the same time not undercutting what a magazine does."
Popular Science also aims to make the Genius Guide a paid product and tested several price points from 99 cents to $4.99 with the first issue. "One of the things we're emphatic about is not conditioning the audience to expect this for free," says Jannot.
The Genius Guide uses videos to introduce new features and offers layered sidebars without clogging up the layout. "We've worked with Zinio's Flash developers to bring the pages to life with Flash animation," says Jannot. "In some cases, as you've seen with the first issue of the Genius Guide, as you turn pages, it comes together before your eyes. We've taken the static, standard magazine form and found a variety of ways to animate it without throwing away the conventional two-page spread."
Jannot stresses that each item has a purpose. "On a flat magazine page, you're limited to photos, illustrations and text," he says. "With animations in the Genius Guide, we can start at a high focal length for a more general look, then zero in on something and draw the reader's eye to what they need to look at. In the first Genius Guide, one of our favorite things was the box/PC you got, which opened up to zero in on what you look at, or turned your TV around to show exactly where plugs are. That's obviously not possible in a flat, static magazine."
Jannot says that while advertisers were interested in the first issue, the publisher ran out of time before it got a commitment.
"Advertisers had to overcome some preconceptions of the phrase 'digital edition,'" he adds. "Some advertisers still think of that as an inferior, static, flat version of the magazine. We're selling this as very leading edge. We think a very large chunk of circulation will be delivered this way."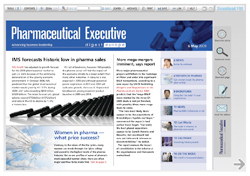 Publisher: Advanstar Communications Europe
Digital Product: Pharmaceutical Executive Digest Europe
Platform: Nxtbook Media
Advanstar's European division has designed the 18,000-circ digital edition of Pharmaceutical Executive Digest Europe strictly for the digital platform. By tweaking the layout in a cleaner, more accessible way and keeping functionality simpler, the magazine has dramatically increased all the usage metrics that matter most.
The first breakthrough was ditching the single-page portrait framework in favor of a landscape layout. "In a single-page layout, you have to use the zoom function," says editorial director Peter Houston. "If you landscape it and increase the type size, it makes it easier to read."
Houston also bumped up the frequency to weekly and mirrored a strategy more akin to e-mail newsletters. (Increasing the frequency meant they could get away with shorter-form content.) By dropping the page count from 40 to 15, there was a noticeable difference in response. The front cover was dropped, too, taking the reader straight to the content. The magazine achieved as many pageviews in a week as it had in a month. And the average time spent per visit increased 20 percent.
The robust analytics that digital editions customarily provide come in handy not just for readership behavior, but for incorporating social media metrics as well. Pharm Exec has a Twitter account with more than 500 followers and, according to Houston, more than 5 percent of visitors to the digital edition are referred from Twitter.
Houston points out that a digital magazine is one part of a larger digital package.  "If anyone says the future of magazines is in digital publishing, it's really in integrated publishing," he says. "And it's using the digital channel for certain things. Twitter, LinkedIn and social media channels, e-mail newsletters and the Web site are all part of the answer to doing this properly. Just having the digital magazine would be a tough one."
Publisher: Premier Media Holdings
Digital Product: Premier Guitar
Platform: Texterity
By aggressively using the digital edition as a free version of the print magazine, Premier Guitar has leveraged its digital version to pull customers deeper into the brand experience. Web site visits are up significantly, and the magazine has almost doubled its print subscribers.
While the digital edition has, in two years, passed the print version in readership with 32,000 opt-in readers (versus print's 30,000), the benefits of having a platform trifecta—print, Web site and digital edition—far outweigh concerns of one medium cannibalizing the other. "We've seen a 70 percent increase in our paid print subscriptions and we're now pushing an 80 percent sell-through on newsstands," says managing director Peter Sprague.
Readers tend to take smaller bites out of the digital edition but come back to it more often. "When you add up the frequent visits they start to look like the single longer visit with the print version," says Sprague.
But Sprague isn't content to simply let the digital edition act as a gateway to the print magazine. A sweepstakes challenge asks readers to find three guitar picks planted throughout the digital edition for a chance to win a $100 gift card builds through-the-book readership. And videos—performance and instructional—have collected 2.5 million views among the 425 offered.
Sprague is also creating custom, sponsored versions of the digital edition. A standard issue, for example, will alter its table of contents page to link to specific sponsor content in the magazine. The sponsor e-mails the magazine to its in-house list of artists, retailer customers and other manufacturers. "We charge them for this," says Sprague, "but more importantly, we get to sample lists that may not be available to us."
Meet the Author
---