Oprah Shares Cover of Magazine for First Time

Michelle Obama first 'non-Oprah' to appear in 105 issues.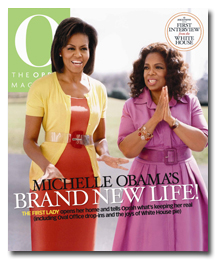 For the first time in its nine-year history, Oprah Winfrey is not the lone cover subject of her magazine. Oprah shares the cover of the April issue of O with Michelle Obama.
It's the first time in 105 issues Oprah is not front-and-center.
"Say what you will about books—people do judge a magazine by its cover, which is why it's important to me to keep the cover of this one looking fresh," Oprah said in a release. "And right now nothing—and I mean nothing—is fresher than the family that moved into the White House in January, sparking a national spirit of renewal the likes of which I've never seen."
The issue hits newsstands on March 17, and it could use a boost. Single copy sales for the Hearst title fell 25.2 percent during the second half of 2008, according to the Audit Bureau of Circulations' Fas-Fax. Overall circulation slipped 1.7 percent during the period.
O carries a guaranteed rate base of 2.35 million.
Oprah's February 17 interview with the first lady—the first one Michelle Obama gave from the White House—appears in the magazine. Renowned Rolling Stone and Vogue photographer Bruce Weber shot the interview for O—his first time shooting for the magazine.
Meet the Author
---