The Opposite of an In-Flight Magazine?

Airports of the World wonders.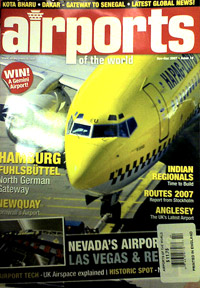 Every once in a while you come across a magazine so specialized that it just takes your breath away—how wonderful when it's a consumer title to boot.
Airports of the World, which sits on the old stump at the crossroad of airplane and architecture geekdom, is one such glossy, which I couldn't bring myself to buy but photographed with my cell phone at B. Dalton's. To me, the British magazine promises all the excitement of a 14-hour layover, and very nearly delivers it, with sleepy-time articles and layouts as constipated as you'd be after three consecutive concourse meals, but clearly someone is reading it and more power to them. Airports of the World is this week's proof certain that magazines are alive and well.
More here …
Meet the Author
---