With advertising taking a massive nosedive this year, publishers venturing into selling uncharted ad territory have likely hit a number of roadblocks. But during the Folio: Show Virtual, Josh Gordon, president of Smarter Media Sales, presented his preliminary survey findings on how readers respond to advertising in interactive editions (defined as digital editions with no print components) as compared with other electronic media.
Gordon's independent survey, "The Case for Advertising in Interactive Magazines," is a result of four months' worth of polling a dozen interactive magazine publishers who are making money from advertising—including Premier Guitar, VIVmag, Winding Road and PopSci Genius Guide—and asking these publishers to send questions to their readers, is a first to look into interactive magazine readers' electronic ad preferences.
The survey aims to give publishers a way to present the benefits of advertising in this new category to online media buyers. "When selling ads into any kind of interactive magazines, I can tell you that all of the publishers I interviewed go through an ad agency's digital media buyer," Gordon says. "While this is more likely at larger agencies, it speaks to the fact that if you want to sell ads, you have to compare yourself for other online media."

More Bang for Your Ad Buck
The full findings of Gordon's research—which was sponsored by Zinio and Nxtbook Media—won't be released until mid-November, there are a few preliminary takeaways from "The Case for Advertising in Interactive Magazines" from about half (2,500) of the total readers surveyed (5,000).
When it comes to monetizing digital editions, extras like video, audio, slideshows and animation in ads have a positive impact on reader experience. About a quarter (26.4 percent) of readers play an ad with digital extras to see if they "may become interested in an ad."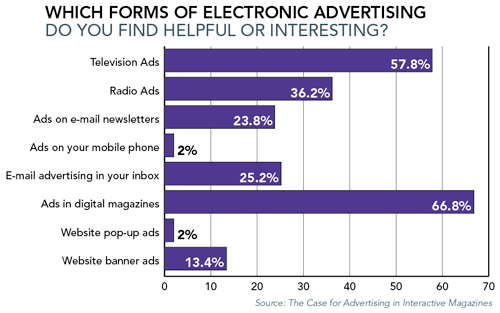 Another stat showed that while 32.4 percent of readers will skip an interactive magazine story that they are not interested in, a third—34 percent—will read a bit of the article and play the ad's extras, while 21.8 percent will play only the digital extras. In terms of user engagement, interactive edition ads topped the charts at 66 percent as the most helpful and/or interesting form of electronic advertising, beating out TV ads (57.8 percent).
Of course, as Gordon notes, advertising in interactive magazines is very competitive. While interactive magazine advertising may offer a high degree of engagement, interactive ads still don't top the clickthrough pyramid. Online search still reigns supreme, controlling about 47 percent of the $10.9 billion Internet ad revenue in the first half of 2009, according to the Interactive Advertising Bureau and PricewaterhouseCoopers report.
However, Gordon's survey shows that 36.6 percent of readers who started reading interactive magazines spent less time searching for similar content on the Web. "The fact that this survey discovered that it is possible for niche interactive magazines to reduce readers' search behavior is a huge finding," he says.