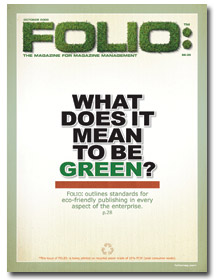 One of the most important steps in developing a plan for becoming a green(er) publisher is establishing a stewardship policy within the company to coordinate—and communicate—the green goals to each department internally, and to work with the current supply chain. For some companies, like Time Inc., this might mean appointing a chief sustainability officer; for others, it could be something as simple as creating an internal committee charged with making sustainability a priority for each team.
"Having a stewardship policy is helpful to make sure your internal team understands its role and responsibilities," says Frank Locantore, director of the Magazine Paper Project. "For your external partners it provides them with your intention for making environmental improvements over time and allows them to best prepare to serve you."
"The policy outlines what your overall intentions, goals, and timelines are to make your production process and paper use the most environmentally responsible," he adds.
This means everything from minimizing paper use in office printers and fax machines to having copiers all configured to use as little paper as is possible.
One of the biggest publishers to formulate a stewardship policy is Hearst. In 2004, Hearst asked its paper suppliers to participate in something called the Hearst Sustainable Forestry Initiative, a program designed to track and improve the fiber certification levels for all of the paper used in Hearst magazines, and it has doubled the amount of certified fiber used in its magazines in the last three years. In 2007, the company launched TheDailyGreen.com, a consumer Web site dedicated to earth-friendly living.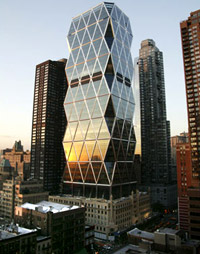 The Greenest Tower
But the most visible evidence of Hearst's commitment to sustainability is the Hearst Tower, the first-ever "Gold" LEED-certified office building for core, shell and interiors in New York City. (Over 90 percent of its structural steel contains recycled material, and 85 percent of the original structure was recycled for future use.) Walls are coated with low-vapor paints; desks, chairs and other furniture are formaldehyde-free. Floors and ceiling tiles use recycled content.
The building utilizes highly efficient heating and cooling system sensors that control lights and turn them off when rooms are vacant. Rainwater collected on the building's roof is used to replace water lost in air conditioning, water the plants and feed the three-story "Icefall" water structure in the building's main lobby.
In 2008, the company adopted a "target-zero waste" policy, in which organic waste from the building's kitchens is collected and shipped for composting—diverting 95 percent of all kitchen waste from landfills, the company says.
Hearst's Information Services Group is on board with its sustainable development strategy, establishing a set of processes to deal with the company's obsolete IT equipment. Useable assets, such as old computers and other hardware or software, is donated to charities and schools or recycled. Remaining assets, are then disposed of through two asset recovery companies, which refurbish or recycle them.
Plenty, a magazine with the motto "It's easy being green," offsets its carbon footprint—the energy used to print the magazine and run its offices—with Green Mountain Energy, an Austin, Texas-based provider of cleaner energy and carbon offset solutions.
At Topeka, Kansas-based Ogden Publications, which publishes quasi-hippie titles Mother Earth News, Natural Home and Utne Reader, the company went through its daily business processes one by one to reduce its overall impact on the environment. Odgen upgraded the lighting ballasts and lights to energy efficient bulbs, added solar tubes to supplement the office's natural light and eliminated artificial lighting where possible. "The bonus is that the building is actually brighter," says publisher and editorial director Bryan Welch.
The printers and copiers are stocked with post-consumer recycled copy paper (an obvious step, but not all publishers do this); packing material cardboard is reused; all of the Styrofoam cups have been replaced with glass mugs.
Each Ogden employee is provided with a recycling bin for paper; there are recycling bins throughout office for aluminum cans, cardboard, chipboard, paper, plastic, steel and glass. Ogden also foots the bill for interoffice recycling drives for employees to bring in their used home computers and tennis shoes. There even are parking spaces reserved for employees who carpool.

Green Publishing Standards: Increase office recycling (paper, plastic, etc.) to 75 percent in 2009 (100 percent by 2010).

What You Can Do to Be Green: Develop a stewardship policy within your company to establish, coordinate and communicate the green goals of the company to each department internally, and to work with the current supply chain. Incentivize employees who bike, carpool or use mass transportation.
Resources: hearst.com/being_green; greenmountainenergy.com
SEE ALSO:
MAIN PAGE
PRODUCTION | The Paper Problem
EDITORIAL | Does the World Really Need Another 'Green Issue'?
DISTRIBUTION | Efficiency–And Sustainability–At the Newsstand
EVENTS | How Eco-Friendly Can a Live Event Be?
MARKETING | A Paperless Future?
DIGITAL | Using Digital Editions to Go Green