Online Retailer Zappos Launches Digital Magazine for iPad

Monthly title Zappos ZN will be free through the iTunes App Store.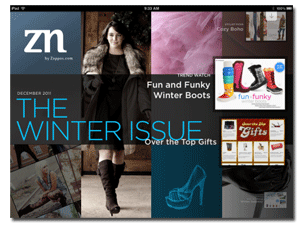 Online clothing and shoe retailer Zappos has dipped into the magazine business with the launch of a digital publication for the iPad. Called Zappos Now (ZN), the title is produced entirely in-house, from content through app development, and will be distributed monthly through the App Store on iTunes.
The company has an existing mobile shopping app for the iPhone, iPad and Android, but Zappos ZN product and design lead Carrie Whitehead says, "We wanted to build something that revolved around a curated experience, not just focused on sales but on the experience itself; that brand building, if you will."
While the company declined to share the number of downloads and unique readers since the magazine's December 8 launch, it claims the average user is spending more than 40 minutes reading the publication, which features travel, fashion and style content as well as the ability to purchase products. As an incentive, Zappos offers free next business day shipping on all orders through ZN, without a minimum purchase requirement.
Whitehead says that, while the roll-out has been through the AppStore, Zappos is looking at other mobile platforms for ZN, as well as various types of HTML delivery.
This move is in line with a general uptake in the branded content arena. According to a study from the Custom Content Council, branded content spending reached an all-time high in 2011, at $1.9 million per company, and 30 percent of responding companies felt their budgets would rise again next year. Publication budgets led as the biggest driver of growth, with a 68 percent budget increase over the year before. Electronic content grew the most of all categories, at 39 percent, while print grew the least, at 16 percent.
Meet the Author
---