Online-only News Brands Garner More "Buzz" than Print-Affiliated Counterparts

Marketing agency Zeta awards HuffPo top spot.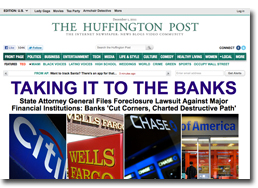 Online-only news sites received more—and more positive—online "buzz" than their print-affiliated counterparts in 2011, according to a data-mining tool developed by digital marketing agency Zeta Interactive.
Zeta, which has been awarding its annual Zeta Buzz Awards for the past four years, uses a mathematical algorithm that searches by tone (positive or negative) and volume of posts on a given topic—in this case, media outlets. The tool, Zeta Buzz, scans approximately 200 million blogs, online media posts, and news items and determines the most common words and phrases used to describe a brand in various categories.
For this year's award, The Huffington Post rose to the top spot from its fifth ranking last year. The New York Times held steady at number two, while Reuters fell from one to three. AOl.com and CNN.com respectively made up the fourth and fifth spots.
The Huffington Post's most commonly associated words were "news," "breaking," "instant," "editorial," and "quality," while the New York Times' words were "digital," 'iPad," "online," site," and "blogs." Zeta CEO Al DiGuido says this is a reflection of the way these brands are marketing themselves online, as well as the way they're being written about in "this incredibly explosive platform called the blogosphere."
"What this says to magazine publishers," DiGuido says, "is to make sure that you're giving as much attention as you should to this area of social media." He says the volume of scores in the publishing arena is "gigantic"—in the top five—compared to many of the other 20-25 categories the tool measures, which include pharmaceutical, automotive, and retail. That means brands within this space are being talked about, so publishers would be wise to "redouble their efforts" in social marketing.
Meet the Author
---