Online Network Launches 'User Review' Channel Service for Publishers

Outside utilizes Buzzillions2Go to create channel with 600,000 product reviews.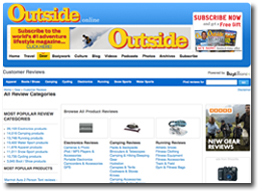 Online user reviews network Buzzillions has launched Buzzillions2Go, a service that allows publishers to create product review channels on their Web sites. The reviews are funneled to publishers' Web sites from Buzzillion's network of retailers.
According to Buzzillions vice president Jim Morris, the Buzzillions technology/service offers publishers a "hands-off" way to add thousands of product reviews to their Web sites, as well as increase traffic and supplement revenue. "The private label site comes with display ads, links to merchant sites and other advertising that drive more revenue to the publisher's site per user visit," Morris told FOLIO:. "The ROI quickly becomes positive because there is no upfront fee. It works purely on a revenue share of the proceeds generated from users."
Buzzillions creates a co-branded user review channel on a publisher's site by matching colors and using the site's existing HTML header, footer and logo. To draw users from the home page to the review channel, the publisher creates javascript-based "doorways" installed through its content management system.
"For instance, the 'doorway' might be a Top 10 list of digital cameras the publisher drops into their photography section," Morris said. "Other doorways can be navigation links that go straight to the home page of the user review channel, calling the link "User Reviews."
Buzzillions partnered with Outside magazine to create a user review channel that includes roughly 600,000 reviews on more than 100,000 outdoor-related products. Outside embedded Buzzillion2Go modules throughout the site. "When Outside experts review a product, they place the Review Snapshot module at the end of the review to give the consumer perspective and to capitalize on a user's desire to learn more and potentially purchase that product," Morris said.
Buzzillions is targeting niche- and broad-market publishers as well as search engines and aggregators.
Meet the Author
---