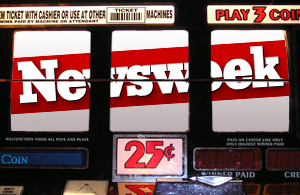 Forget betting on which team will make it to this year's NBA championship or who will take home the 2010 World Cup trophy. Now that Newsweek is up for sale, you can place bets on which company will acquire the troubled title.
According to YouWager.com—a sportsbook, online casino and poker room—there's a 33 percent likelihood that Rupert Murdoch will be the one to acquire Newsweek. Next up is Bloomberg (25 percent), Thompson Reuters (20 percent), Time Inc. (12 percent), McGraw Hill (9 percent) and OpenGate Capital (6 percent). [View the chart below for the return on wagers.]
It's fun to categorize buyers' chances Las Vegas-style, but how did YouWager calculate the odds? "First comes the need to do some research," YouWager.com Cory Scott tells me. "These are public companies, so it's easy to see how they've been performing over the last few quarters. Next, you come up with your odds. Fans like to root for the favorite, while gamblers love a long shot, so you need to put up companies that have a possibility of going down based on performance, but it still needs to be unlikely to justify the larger payout."
Scott adds that the site also takes into account the popularity of the companies being bet on. "People won't bet if they don't have an opinion, and they won't have an opinion if they don't know anything about the team or, in this case, the company," he says.
What are the Odds that Playboy Gets Sold?
YouWager didn't stop with Newsweek. The site has also placed odds on which major magazines will most likely be sold this year. Playboy tops the list at 29 percent followed by Time (25 percent), Vogue (20 percent), Sports Illustrated (18 percent), Vanity Fair (14 percent), National Geographic (14 percent) and People (13 percent).
Scott came up with these odds by applying the same criteria as he did for Newsweek. "Playboy's revenue for print and digital is down 26 percent, and this is a trend that has been going on for a while," he said. "I compared Playboy to the other companies and decided they are the most likely candidates to go down based on recent and past performance."
Because Playboy has had financial trouble and because of the current state of the economy, Scott felt there's a 25 to 30 percent chance that the company's magazine would be sold, which equals roughly to +250 or $250 for every $100 risked. "After I set the odds, I need to ask myself whether people have an opinion on Playboy going down.  I think so, so the odds go up with Playboy as the 'favorite' to go down, but it's still an unlikely outcome."
So, get your pocketbooks ready, and place your bets!
Odds that one of the options below will purchase Newsweek
Rupert Murdoch
+200
(33%)
Bloomberg
+300
(25%)
Thomson Reuters
+400
(20%)
Time Inc.
+750
(12%)
McGraw Hill
+1000
(9%)
Opengate Capital
+1500
(6%)
 
 
 
Odds that one of the listed magazines will be sold this year
Playboy
+250
(29%)
Time
+300
(25%)
Vogue
+400
(20%)
Sports Illustrated
+500
(18%)
Vanity Fair
+600
(14%)
National Geographic
+600
(14%)
People
+700
(13%)

[The +/- indicates the return on the wager. For Example: Betting on the candidate least likely to win would earn the most amount of money, should that happen. The percentage is the likelihood the contestant(s) will win.]