Online Ad Revenue Reaches $8.4 Billion in Q1 2012

IAB report shows a 15 percent increase over Q1 2011.
18 pt
18 pt
0
0
false
false
false
<![endif]-->
Internet advertising revenue set a new first quarter record this year, reaching a total of $8.4 billion for the period, according to an Interactive Advertising Bureau (IAB) report. 
This figure tops last year's first quarter numbers by 15 percent, or $1.1 billion, despite a quarter-to-quarter dip of almost half a billion, from $8.97 billion in Q4 2011-an uptick likely caused, in part, by holiday advertising.
Last year's Q1 revenue was also topped by the previous quarter, by about $0.2 billion. Full-year revenue rose to a total of $31.7 billion in 2011, up from $26 billion in 2010.
First quarter revenue this year is almost $7 billion higher than ten years ago, in first quarter 2002.
This latest Internet Advertising Report is "a solid affirmation the Internet is delivering on its promise to attract consumers and the advertising dollars that follow," according to David Silverman, partner, PricewaterhouseCoopers (PwC).
PwC's New Media Group conducts the report, which is sponsored by IAB and issued twice yearly with full and half-year data, as well as in the first and third quarters with topline estimates.
The following IAB chart presents first quarter ad revenue since 1996: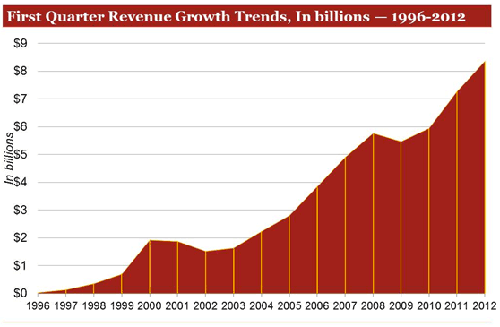 Meet the Author
---