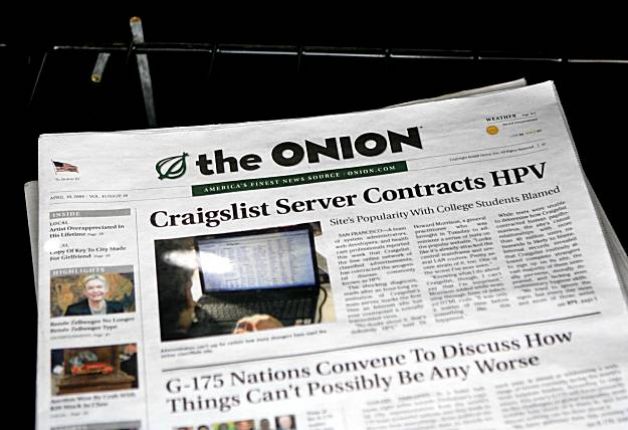 After 25 years, The Onion's satirical newspaper will become 100 percent digital at the close of 2013. At its peak, the publication was circulated in 17 cities nationwide, however that had been whittled down to just three–Chicago, Milwaukee and Providence.
"The Onion's focus in recent years has been on growing the digital side of our business," president, Mike McAvoy tells FOLIO: in an email. "While the print edition is an important part of our history, we are very excited for the opportunities that come with prioritizing digital for even greater company growth."
Advertising for the print publication had been waning for several years, and as CRAIN's Chicago Business points out, the most recent Chicago issue only had two pages of print advertising, hailing from one source. However, the publication suggests that digital native ad buys are growing nicely. And The Onion claims its audience has never been bigger or more engaged–thanks to the affordances of digital technology, which gives editors the flexibility to produce timely content.
"Since this transitional process began, we have seen our audience grow stronger than ever, and our unique visitors to The Onion and A.V. Club sites have increased by more than 200 percent since July 2012," McAvoy says. "Our success has allowed us to invest in our Onion Labs creative services business and, in a short time, Labs has completed projects with brands such as Home Depot, Lenovo, 7-Up, 7-Eleven, Clorox, YouTube and DSW."
Although The Onion is exiting one platform, it is still expanding its multiplatform strategy–which includes an Amazon-exclusive TV series titled Onion News Empire. Still, after 25 years The Onion certainly has a large library of content assets, but when asked, the company declines to address whether it will continue to leverage its assets for premium print products like anthology books.