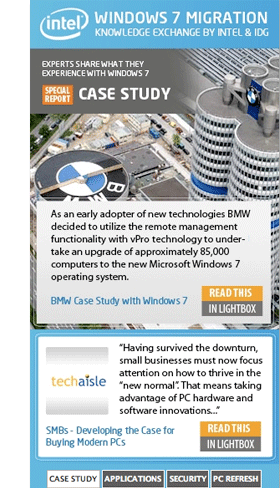 IDG Strategic Marketing Services, in conjunction with Widgetbox, a provider of audience engagement and digital marketing solutions, has developed the Nanosite Ad Unit, which turns a digital ad into a microsite that automatically pulls in related social media commentary and editorial as well.
The Nanosite offers the capabilities of landing pages, video, lead-gen forms and white papers directly within a single ad unit. The rich media components are trackable through DART. "We can track the user from the moment they engage with the unit until they leave," says Jeremy Rueb, vice president of program development for IDG Strategic Marketing Services. "We're doing things like demand generation that can capture the user's name and e-mail."
In addition to the advertiser's creative elements, the Nanosite takes feeds from all IDG sites that automatically generate content and social media commentary related to the topic. "Instead of the user clicking on the link and going to that article on say, Computerworld.com, the article is served up on the Nanosite," says Rueb. "We can also pull in related social media commentary-anyone who has re-tweeted a comment or posted a link somewhere else, we can pull it into the platform. People don't just want the vendor's perspective or IDG's perspective, they want to get all the highs and lows to make most informed decision."
While IDG handles the design for creative and the wireframes, the Nanosites use ClickTurn ad technology that pulls everything into a dynamic delivery system with reporting. "We're not reinventing the platform every time-we're using a standard platform to produce a new creative set every time we need to pitch to a client," says Rueb.
Pricing includes a production fee that ranges from $5,000 to $25,000 depending on the complexity of the ad unit, and a CPM premium. "We not a creative agency, we're about content," says Rueb. "We launched the Nanosites as part of IDG Strategic Marketing Services and it's now become a company-wide initiative. We've seen a lot of traction in the last three months."