One Publisher Defends Cover Model Retouching

Self editor-in-chief says cover art isn't journalism.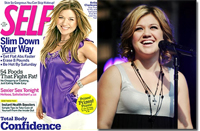 On the heels of Kim Kardashian's unretouched photos being released on Complex's Web site only a few months ago, and New York and Rolling Stone's blatantly airbrushed images of the Obamas during election season, magazines—women's titles, particularly—have taken an endless beating for having a heavy hand when it comes to airbrushing and Photoshopping their cover subjects.
After receiving a great deal of flack for an airbrushed and color corrected (but not Photoshopped) September issue cover featuring Kelly Clarkson—and admitting late last week to the alterations—Self editor-in-chief Lucy Danziger used her Self.com blog to issue a response to the airbrushing "controversy," which has ended up as a kind of defense for magazine cover retouching.
In addition to confirming her "yes, we airbrush" statement, Danzinger wrote that Self's portraits are not meant to be unedited or true-to-life snapshots. She even admits to asking her art department to shave a little off of her hips on a photo of her running the marathon for an editor's letter a few years back. "I am confident in my body, proud of what it can accomplish, but it just didn't look the way I wanted in every picture," she wrote.
Of the hundred or so images snapped at a Self shoot, she stressed, there are outfit changes and lighting adjustments, and hair touch-ups and fans blowing, making a perfect picture hard to come by. "This is art, creativity and collaboration. It's not, as in a news photograph, journalism. It is, however, meant to inspire women to want to be their best. That is the point," she wrote.
Do you think Danzinger makes the case for retouching?
Meet the Author
---