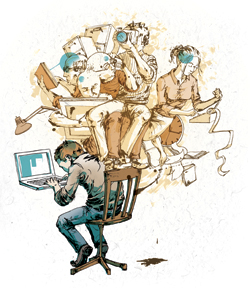 If you're the whole of a one-person art department—or even just part of a very small team—you know what it's like: you're busy laying out every department and feature while arranging photo shoots; sourcing clip art; hiring illustrators; balancing the budget; working on collateral, supplements, newsletters, maybe the Web site—all the while staying creative and fresh, producing high-quality work that pleases everyone on the magazine team.
For smaller publications, a one-man (or woman) art department is the rule rather than the exception. So how are these tiny teams making it work?
Justin Heister, solo art team for skateboarding culture magazine Focus, says, "Besides just keeping everything organized and templates made where possible, there really isn't anything I've found to dramatically streamline work."
In particular, he says, interns aren't the answer. "We find more time goes into giving them direction than what would have been spent just doing the work ourselves in the first place."
Coping with the Challenges
When Primedia's Sail downsized its art department in January from three to two people, "the transition was painful to say the least," says design director Paul Lee. "It took us about three months to restructure and settle on a new workflow." The magazine decided to stop accepting films and slides and now only accepts digital files. The team also created an extensive, keyword-searchable database of images—the magazine publishes more than a hundred images per issue and receives more than 1,000 for consideration each month—doing away with "many old filing cabinets and the time consuming work of creating and printing contact sheets," Lee says.
Another key is developing strong relationships with photographers, illustrators, freelance designers and editors. "There have been times when I would call an illustrator for an assignment with a one-day turnaround, or with virtually no budget," he says. "Be good to your contacts and your edit team. There's no room for attitude or for gaining respect by fear."
Sometimes, this means developing "tough skin," says Adana Jimenez, art director for Scholastic Marketing Partners. "You need to learn how to voice your needs as an art director, working with people who may not be as visual as you."
For Marco Turelli, art director at Wine Enthusiast, the key is having "the newest, biggest, baddest Mac" on the market with updated design and production software. Also crucial, says Turelli (who is responsible—along with one assistant—for cover to cover design, minus ads, plus promotional material and all collateral for the up to 172-page magazine), is the ability to turn to stock image resources like Getty, Shutterstock or Corbis.
"From the time we receive copy to the final drop dead date, there should be a month to a month and a half to read and plan for the creative," Turelli says. "That doesn't ever happen." Often, he says, stories need to be turned around in a day, especially when writers don't stick to the initially-planned concepts. That's when creative needs to be done "on the fly," he says, and sourcing photos quickly—and cost effectively—becomes essential.
Jimenez is partial to Veer which, she says, has all the benefits of Getty and Corbis and is competitive in price but allows art directors to download high resolution images to test before committing to buy.
What Gives?
Being a one-person art department has an upside, too. "You have full creative control, and having that sort of freedom is great for productivity most of the time, and morale," says Heister. Also, "it's great for continuity across the board."
On the other hand, "this can easily turn into a frustration when you are struggling to break out of your creative box," Heister adds. "Things start to look too similar for you to be satisfied with them, which is good because it helps you put out the best possible product, but it can also be mentally frustrating, which consequently becomes overly time consuming."
So what gives, then? According to Heister, nothing. "I never really feel like anything is compromised because I make sure I put in the time necessary…if you put in that extra time to get the results you want, it shows."
Can They Compete?
So can magazines with tiny art budgets and staffs compete with magazines like Esquire, GQ and Wired? "It can be hard but not impossible to compete and win," says Lee. "If the director at the helm is a true talent then it will drastically increase the chance that your publication can measure up to the big players."
For Turelli, competing with Wine Spectator—which appeals to a more discerning wine drinker—means differentiating. "We're appealing to the mass market consumer looking to have fun. We don't need the big budgets to try to get celebrity photo shoots."
For Lee, no matter what, there is a compromise. "Design without compromise is what I consider design for design sake. In the publishing world, we are all faced with different limitations ranging from art budget to our target audience. A good art director needs to know how to work well with the edit team and, more importantly, needs to be in tune with the target audience."