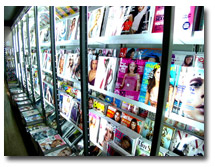 The 2008 Retail Conference, with the theme, "Unleashing the Power of Print," begins Monday in Tampa, Florida. The conference is co-sponsored by the Magazine Publishers of America and the International Periodical Distributors Association (IPDA). According to the results of survey by another publishing related trade group, the Periodical Book Association of America, the conference will take place in an atmosphere of uncertainty and concern.
The following findings of the PBAA report-which was conducted in January and February-were excerpted from the association's publicity release of March 18:
68 percent of publishers decreased or kept their draws flat in 2007 (in line with wholesaler initiatives). More than half of the publishers had decreased or flat sales.
69 percent raised their cover prices (32% by a $1.00 or more). Publishers seem to be trying to make up revenue by cover price increases, since sales are flat or down.
86 percent expect flat or declining sales in 2008. Note: Publishers are unhappy in general with wholesaler attitudes; copies have been taken out of the systems, efficiency is up, but publisher cost savings (of not printing the wasted copies) are eclipsed by rising paper, printing, binding, and distribution costs …
Publishers are seeing continued resistance by wholesalers in general to the concept of 'returning copies to the system' by re-investing or 'trading up' copies to new outlets …
75 percent of publishers saw no benefit in their participation in wholesaler incentives.
65% of publishers perceive the national distributors are trying to 'fight the fight' but are not effective at this time …
Wholesalers are perceived primarily as magazine distributors, not as sales partners (and need to be more aware of this widespread perception), leading to increasing publisher efforts to find additional sales channels.
Confirmation of Increased Tensions
Although the PBAA survey results are strongly attitudinal, and probably not a statistically valid representation of the entire business, they do confirm the increased levels of tension that are clearly present today in the magazine distribution channel. Although sales have improved, albeit only by minuscule levels, in each of the last four years, and efficiencies are up by six percent during that period, the levels of distrust between wholesalers and publishers and their national distributors is at a very dangerous level. More than a decade of financial distress at the wholesale level has driven the surviving companies to institute, particularly in the last few years, policies aimed at reducing costs. Although most wholesalers say they are also engaged in aggressive marketing, suppliers generally feel the policies emphasize cost savings at the expense of expanding sales.
At the same time, the already mentioned fragile economic condition of wholesalers has driven some of them to demand higher margins and/or challenge national distributor payment terms. The tensions arising from these types of confrontations have led many in the business to consider the possibility of one or perhaps more major wholesalers leaving the business entirely. For any publisher or national distributor, the challenge of suddenly having to deal with the loss of 15 to 20 percent or more of its retail distribution is more than a daunting task. That scenario has always been a remote contingency, but only in the last six to nine months, has it matured into an imminent possibility.