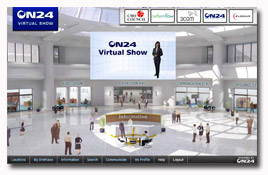 ON24 Inc. has expanded its offerings with ON24 Virtual Show, a solution that offers a virtual venue for trade shows, job fairs and conferences.
ON24 Virtual Show includes a customizable user interface that can accommodate the host's look or "team colors" in the plaza, exhibit hall, communications center and individual booths. The solution provides real-time information on attendee activity during the show including document downloads, presentations viewed, average viewing times, participation in discussions and responses to polls and surveys.
The solution also offers a "moving" exhibit floor in which the building, booths and exterior landscape move at different speeds to create a sense of walking through the exhibit hall.
Personalized Booths and Social Networking
Exhibitors can create "smart booths" that offer personalized content based on attendee profiles (such as providing technical specifications to IT attendees or tips on business strategy for business professionals).
Attendees can also create personal profiles, set privacy preferences and interact with other attendees in online chat. A communications center offers scheduled or ad hoc group discussions as well as the chance to post and reply to forum discussions on the message board.
Costs can range from $20,000 to $50,000 depending on the complexity of the environment and the number of booths in the show.
Webcasts Go Mac-Friendly
One of the knocks against ON24 has been that its Webcast platform was not Mac-friendly.
Now On24 is making live streaming for Webcasts available using Abobe Flash. Webcasts will now be available to operating systems including Mac, Linux and PC. The Webcasts can also feature dynamic images, audio, video and animation.