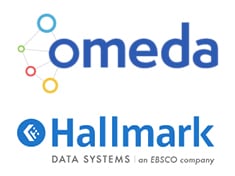 Database and fulfillment services provider Omeda Communications has acquired Hallmark Data Systems from EBSCO Industries, effective immediately, the company announced Thursday.
Terms of the deal were not disclosed, but Omeda president and CEO, Aaron Oberman, tells Folio: that about 90 percent of Hallmark's employees will be retained after the transition.
The announcement comes less than a month after Omeda acquired Sunbelt Fulfillment Services from company founder David Ely, and will grow Omeda's client base to over 600 brands at 80 different publishers, Oberman says.
"We've obviously been competitors for a very long time," Oberman tells Folio:. "Both of us have been trying to build out the same functionality and applications. Where the publishing market was today, I thought it was best to join forces on that so we could put both of our resources into building one application suite."
According to Folio:'s annual survey fullfilment services bureaus, the combined company will serve over 41 million records. The move, according to Oberman, is critical in Omeda's mission to shepherd its clients through an industry-wide transition from print to digital to data.
"It gives us an opportunity with the breadth of publishers and media companies we're working with to really expand the data offerings that we can give them," Oberman continues. "We'll have a lot more data and a lot more understanding of market trends and how people are interacting with different brands."
Omeda's database solutions, informed by its most recent development, Olytics, will serve as the foundation, complemented by both companies' marketing and fulfillment products, including Hallmark's digital publishing solutions Dragon and Mosaic.
"[Hallmark] was spending a lot of time, energy, and money building out a platform that we have already. So we can refocus a lot of that effort into new products and bolstering our current product base," adds Oberman.
While Oberman wouldn't go as far as to say he believes consolidation is a trend in the database and fulfillment services industry, he acknowledged that clients' needs are becoming more nuanced and multi-faceted than ever and there simply is not as much capital out there to support a large number of different providers. Even some clients themselves are becoming competitors, building out their own database and marketing solutions in-house.
"When I talk to clients who do that, I remind them that they used to also own their own printing presses," says Oberman. "Clients building their own database projects, it generally doesn't work for them. There are a couple of exceptions, but really they should focus on what they do best, which is delivering content and bringing buyers and sellers together."
Whether the industry can expect any further acquisitions from Omeda in the future remains to be seen, but Oberman insists that the company's current focus is in tending to the needs of Omeda and Hallmark's clients and ensuring a smooth transition—a mission in which both the buyer and seller are invested.
"EBSCO has been a very good and professional company working through this process," concludes Oberman. "They were very concerned with how we maintained the client relationships and made sure the clients were happy. They were also very concerned with all of the employees to make sure we took care of them."
Hallmark's entire operations and all of their Illinois employees will be moved just over 10 miles to Omeda's facility in Northbrook, Illinois, according to the company.