OK! Publisher Touts Jamie Lynn Pregnancy Coup to Advertisers—Again

This time, though, Morrissy actually has something to say.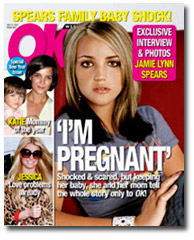 When OK! publisher sent a note to advertisers reminding them that the story that had America in a tizzy—Britney Spears' 16-year-old sister Jamie Lynn's pregnancy—was theirs, I criticized him for a misguided, blatant attempt to cash in on a teenager's apparent troubles ("OK! Magazine Breaks 'Intimate,' 'Exclusive,' 'Major' Pregnancy Story"), and a desperate ploy to stave off the cannibalization of a global scoop at the newsstand.
Well, Morrissy is at it again—this time, though, he has a point. Sort of. It appears his evil plan is working:
From: Tom Morrissy
Sent: Tuesday, January 08, 2008 9:45 AM
To: [REDACTED]
Subject: You Heard It Here First!
Dear Advertiser,
Ask yourself this question: Over the holiday week, how many times did I see news coverage of the Jamie Lynn Spears story, which OK! Magazine broke exclusively? Did it come up in conversation with friends and family at least once? If so, you've experienced the buzz that OK! Magazine has been so successful at creating with our major news stories this year.
We're proud to announce that this buzz helped propel OK! Magazine sales to well over 1 million copies at newsstand for the first time! In fact, this issue sold so well, we literally had to go back to press to satisfy the demand. We project a newsstand sale of 1.3 million for a total delivery of close to 1.7 million for the week! This caps a 2nd half in which the magazine averaged 947,055 copies on our 850,000 rate base – a bonus delivery of 11%.
But OK! isn't only breaking news… we're making news! Our surge in growth and overall awareness is such a phenomenon that the New York Times featured OK! Magazine on the cover of its business section. Click here.
So, as we finish off an extraordinary year of news-breaking exclusives, we want to thank all of our advertisers for their support. We finished the year with a 46% increase in pages (+187 pages), which is the biggest increase in the weekly market and the 4th biggest increase in publishing overall.
Stay tuned for more OK! exclusives. Happy New Year to all!
Sincerely,
Tom Morrissy
Publisher
OK! Magazine
News. Access. Style.
475 Fifth Avenue
New York, NY 10017
Office: [REDACTED]
Fax: [REDACTED]
Mobile: [REDACTED]
Email: [REDACTED]
Meet the Author
---