OK! Publisher: Reports of Our Losses 'Completely Exaggerated'

Says revenues are consistent with its ad page growth; magazine is profitable.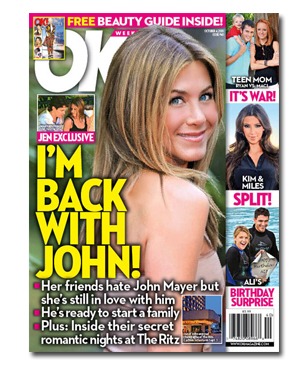 Celebrity glossy OK!, which was launched into the U.S. market in 2005 by U.K.-based owner Northern & Shell, has since enjoyed steady ad page growth and has been the subject of much criticism—especially on the financial end of the business. According to several reports, Northern & Shell pumped more than $100 million into the launch. And, more recently, reports have indicated that the magazine is losing more than $700,000 per issue.
"Financially, the reports of our 'losses' are completely exaggerated," says recently-installed OK! publisher Stephen Gregory Barr. "We've said this many times on-the-record: In just five years—during which many magazines have closed their doors—we've launched, made ourselves a recognizable name in a crowded category and have indeed achieved run-rate profitability in the past year. Based on this, OK!'s parent company, Northern & Shell has made a fully committed monetary, product extension investment in the U.S."
Barr, who joined the magazine at the end of June, previously served as associate publisher of sales and marketing at Zinio/VIV Magazine and as advertising director at Time Inc.'s InStyle. Through the first half of the year, OK!'s ad pages have increased more than 30 percent, according to PIB figures. Pages grew more than 20 percent through all of 2009.
According to Barr, the magazine's revenues are consistent with its ad page growth. "And our expenditures are those you'd see regularly associated with publishing a weekly magazine," he says. "Our profits are in line with growth expectations and the normal economic fluctuations. Again, we're happy to be seeing profitability, but we've had out weeks with losses just like others inside and outside of our competitive set."
Circulation Declines
Meanwhile, the magazine recorded an overall circulation of 695,197 through the first half and missed its 800,000 rate base, according to ABC numbers. OK! saw a 9.6 percent decline in newsstand sales (which made up about half of the magazine's overall circ) and 35.3 percent decline in verified circ. While Barr says he isn't overly worried about the declines, he does want to "take the appropriate steps" to address the issue, including coming up with a new subscription model and delivering on rate base.
"We take into account that newsstand sales are a reflection of the economy and consumer purchasing habits and also take note that more of our competition has moved away from a heavily-weighted newsstand model," he says. "Our editors are mindful of consumer wants and each week deliver an editorial product that will generate interest.  We've introduced more beauty and fashion service, and continue to evolve our take on entertainment to further differentiate from the competition, but with the celebrity category, weekly relevance is key. So, our editors strive to produce the right formula –that delicate balance that services the news interest and the lifestyle interest—that will deliver us positive newsstand results."
The Magazine is Not Closing
Barr admits that OK! is still a work in progress, and takes exception to reports that the magazine is losing millions and is on the verge of shutting down.
"The negativity, which will tell you otherwise and speculate about the magazine's closing, seems to come from a mixture of sources competing for business and overzealous reporters," Barr says.  "We don't dwell on it, but on more than one occasion, and even very recently, we've seen a reporter use and twist legitimately old numbers to substantiate a story. Luckily, we know better."
Celebrity Ad Pages Through the First Half (PIB):
| | | | |
| --- | --- | --- | --- |
| CELEBRITY | H1 2010 | H1 2009 | %CHNG |
| Entertainment Weekly | 502.53 | 412.01 | 22 |
| In Touch | 456.68 | 393.42 | 16.1 |
| Life & Style | 242.51 | 172.69 | 40.4 |
| OK! | 560.06 | 429.43 | 30.4 |
| People | 1768.68 | 1527.57 | 15.8 |
| Star | 698.8 | 558.83 | 25 |
| Us Weekly | 824.85 | 827.33 | -0.3 |
Meet the Author
---