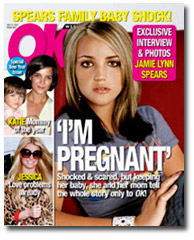 If you haven't heard, Britney Spears' 16-year-old sister, Jamie Lynn spears, is pregnant. The story, first reported by OK! magazine, was picked up by, well, every media outlet in the entire world.
Here's the e-mail OK! publisher Tom Morrissy sent to advertisers this afternoon to remind them it was OK! who did the intrepid reporting, and that now is a good time to advertise in the magazine:
From: Tom Morrissy
Sent: Wednesday, December 19, 2007
3:21 PM
To: [REDACTED]
Subject: OK! Breaking News

Dear Advertiser,

OK! Magazine does it again with another major scoop that is sure to be the hot topic this holiday weekend. Our exclusive, intimate interview with Jamie Lynn Spears discussing her pregnancy was the lead story on all the news outlets this morning including:

• Lead story on The Today Show
• Cover of the New York Post
• Lead Story on TMZ
• Cover of USA Today's Life section
• Lead story on People.com

This exclusive caps an extraordinary year of "gets" for OK! Between the first photos of Larry Birkhead and daughter Dannielynn, Eva Longoria's wedding, and Britney's photo shoot "meltdown," OK! proves once again that we are the source for breaking celebrity news around the world!

Don't Miss Our Next Hot Exclusive: Fast-Close Opportunity!

OK! has the exclusive interview and photos of Emmy-winner Katherine Heigl's wedding in our 1/14 issue (on sale 1/3). As proven with our Kate Walsh and Eva wedding exclusives, this is sure to deliver bonus circulation! Contact your OK! sales representative for a quick opportunity to kick off the New Year with buzz for your brand.

Have a great holiday!

Tom

Tom Morrissy
Publisher
OK! Magazine

NEWS. ACCESS. STYLE.
OK! Magazine | 475 5th Avenue | New York | NY | 10017
How the publication of a story that gets so much national attention–effectively rendering the buying of the magazine completely unnecessary–signals a good opportunity for advertisers to "kick off the New Year with buzz for your brand" is beyond me, although I suppose that's why I'm not the publisher of OK! magazine.
UPDATE: It appears the OK! servers are not handling the traffic crush too well, as the site is up and down (sort of like Britney's pop career?). It also appears that People.com bought "OK magazine" as a Google keyword, displaying a link under search results that reads "JAMIE SPEARS PREGNANT."