OK! Calls Out Us Weekly, People on Cover

Illustrates Britney scoop with old Glamour pic.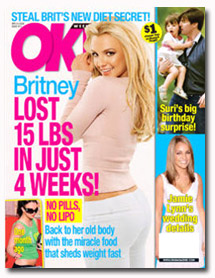 Price wars between celebrity magazines are nothing new—we all remember the move by American Media Inc.'s Celebrity Living to drop its newsstand cover price to 25 cents a couple of years ago. (Celebrity Living, of course, is dead.) But rarely if ever do you see a magazine call out the competition by name as OK! has done this week, touting that its $2.99 cover price is "$1 cheaper than Us Weekly & People!" (OK!—it's worth noting—is going for the trifecta with this one: Britney, Jamie Lynn and Suri).
The cover, however, has another problem, this time related to its Britney Spears' "scoop" (see how the Spears Family made our just-announced FOLIO: 40 list): the cover shot it is using to illustrate Ms. Spears' 15 lb., four-week weight loss is actually from a Glamour photo shoot three years ago.
We already know magazines will do anything to justify a Britney cover. This one, though, seems to be an attempt to appease the Spears family publicist(s) for its next scoop feeding.
The Celebrity Newsstand | Second-Half 2007 Circulation
TITLE
SINGLE
COPY SALES
%CHNG
OVERALL
%CHNG
In
Touch
1,228,056
0.10%
1,271,354
0.20%
Life
& Style
672,463
-9.70%
681,723
-9.50%
OK
550,100
7.10%
935,375
23.50%
People
1,428,760
-8.50%
3,618,718
-3.50%
Us
Weekly
1,005,086
2.70%
1,928,852
10.10

SOURCE: ABC Fas-Fax
Meet the Author
---