Obama Shatters Newsstand Ceiling for Time

President-elect's Person of the Year issue breaks sales record for magazine.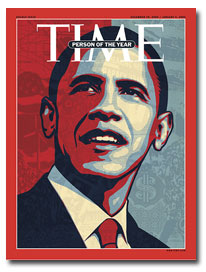 Barack Obama—whose election helped boost newspaper sales and propped up dozens of magazines at the newsstand—appears to have done the same for Time in 2008.
Newsstand sales for Time's commemorative election issue and Person of the Year issue shattered the magazine's own single copy sales records.
The November 17 election issue sold an estimated 575,000 single copies—nearly five times as many copies as an average issue—forcing the magazine to go back to print four times.
The Person of the Year issue, meanwhile, is on track to become the biggest-selling cover in the history of the franchise, the magazine said. The company estimates the issue will sell 70 percent more copies than average Person of the Year editions, which would put it close to 400,000 copies. (Last year's POTY issue sold 200,315 single copies, according to the Audit Bureau of Circulations; in 2006, the issue sold roughly 205,000.)
Obama's victory led to late season victories for other prominent magazines. The New Yorker's post-election edition sold 84,000 copies at the newsstands, second only to its 9/11 cover this decade. That issue sold more than 162,000 copies.
Meet the Author
---