Obama Issue Best Selling in Ebony's 67-Year History

President a boon for more than just Time.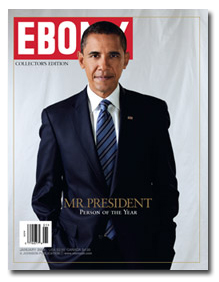 President Barack Obama has been a boon for more than just Time magazine.
Johnson Publishing's Ebony said that its January issue featuring Obama recorded the highest single copy sales in the magazine's 67-year history. To be exact, it sold 405,000 copies off the newsstand—or more than double an average January issue.
Time said newsstand sales for its commemorative election issue and Person of the Year issue shattered the magazine's own single copy sales records. The November 17 election issue sold an estimated 575,000 single copies—or nearly five times as many copies as an average issue—forcing the magazine to go back to print four times. Time projects that its Person of the Year issue will sell 70 percent more copies than the average Person of the Year issues, making it the biggest-selling cover in the history of the franchise.
Indeed, the President has become a brand of his own. From street vendors selling Obama-themed artwork and t-shirts to enabling people to create their own digital versions of the iconic Barack Obama "Hope" poster, everyone is cashing in on the Obama phenomena.
And, why not? In this economy, every penny counts.
Meet the Author
---