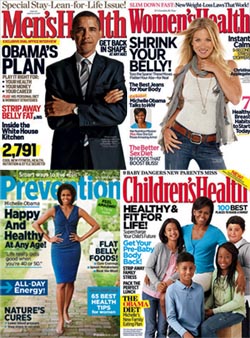 In the midst of a heated national healthcare debate, Emmaus, Pennsylvania-based publisher Rodale Inc. landed a series of exclusive interviews with President Barack Obama and First Lady Michelle Obama on how the first family keeps healthy and fit. The stories, and their respective cover treatments, appeared on the October issues of Men's Health and Women's Health, as well as the November issue of Prevention. The Men's Health and Women's Health articles, publicized the Obama health care reform plan, with Men's Health "strongly endorsing it."
Michelle Obama was also featured on the cover of Rodale's newsstand-only title Children's Health. The special one-off issue carried a print run of 750,000 and hit store shelves on September 15.
Rodale said putting the Obamas on their covers wasn't a sales play. But, even so, one might have expected to see a spike in newsstand sales—especially as Obama's proposed healthcare bill was batted around Capitol Hill. And they did, to a certain degree.
While specific figures have yet to be tallied, sales of the October issues of Men's Health and Women's Health are "tracking similarly" to the October issues in 2008, a Rodale spokesperson told FOLIO:. (The October 2008 issue remains the magazine's best-selling issue to-date, Rodale said.) Meanwhile, Prevention's November issue, which featured Michelle Obama on the cover, is on track to beat last year's November issue by 33 percent, the spokesperson said.
At first glance, those might seem like mediocre numbers. But, after looking at how newsstand sales have otherwise slumped through the first six months this year, they aren't too bad. Through the first half, Men's Health saw single copy sales slide 9.9 percent to 503,929, according to ABC figures. Prevention's fell 19.3 percent to 300,403 copies. Meanwhile, single copy sales of Women's Health shot up 8.7 percent during the period to 333,463.
Rodale said the Children's Health one-off will remain on newsstands through December. While even preliminary figures haven't been calculated, the spokesperson said the issue is "tracking just fine."