Obama-Clinton Race Causing Internal Crisis at Women's Magazines

Election dividing staffs, spurring 'shouting matches.'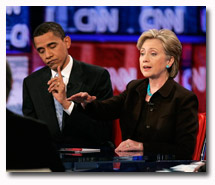 The seemingly endless race between Barack Obama and Hillary Clinton for the Democratic party's presidential nomination has turned ugly. And it appears to be manifesting itself in the offices of women's magazines.
"It's come to screaming matches in our office," said Marie Claire editor-in-chief Joanna Coles during a Mediabistro panel (see: "High Profile Magazine Editors Drink Whiskey, Discuss Industry's Gender Gap") in New York on Tuesday. "There are some knockdown arguments."
Some Marie Claire staffers "feel that being the wife of the president is tantamount to being president," she said. Others support Obama, with younger female staffers, in general, favoring the Illinois senator.
"It's completely divided our readers" and staff, Coles said. "It's a house divided."
Other women's magazine editors spoke of similar fault lines at their titles, and the existential crisis female staffers are having when their colleagues move to support Obama.
"I think she was so unfairly vilified," Elle executive editor Alexandra Postman said of the media's treatment of Clinton earlier in the campaign. "It was this stealthy sexism that was just so unfair." If Obama faced the same vilification, it would've been "completely unacceptable."
This, she said, has galvanized her staff, moreso than any election before. Coles said the readers have also been more engaged in the tight race.
Lead Time Problem
The other problem for women's magazines trying to cover the election is the same problem all magazines—including newsweeklies—with even mildly substantial lead times have: How to predict outcomes in an unpredictable election cycle.
The softer profiles that women's magazines generally run are reliant on the candidate actually being in the race when the magazine comes out.
Cindi Leive, Glamour's editor, said the magazine launched a blog, Glamocracy, to address just that problem.
"It's been a very different election cycle," Coles said. "It's interesting how [all magazine staffers seem to] talk so seriously and so ponderously about politics."
[PHOTO: CNN]
Meet the Author
---