For November Issues, Magazines Hedge Presidential Bets

Law journal goes with double cover for November; McCain wins 'coin toss.'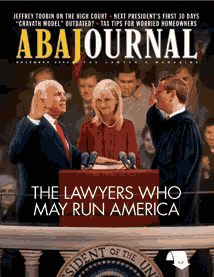 With the election less than two weeks away, many magazines have already put their November and December issues—the ones in mailboxes and on newsstands—to bed. And those that are referencing the election have been forced to declare a winner between early. Vogue, for one, featured a cover line alluding to a Barack Obama win ("All the Vice President's Women"—featuring "four generations of [Joe] Biden beauties") on its November cover.
The American Bar Association's monthly magazine smartly hedged its bets with two covers for its November issue cover story, "The Lawyers Who May Run America," in which the magazine profiled 40 attorneys "who sources say may be appointed to senior positions in the next administration." The front cover features a painting of McCain taking the oath of office. On the flipside, Obama takes the oath.
Why McCain on the front? "We used presidential debate rules: He won the coin toss," said ABA Journal editor and publisher Ed Adams. "It's our way of getting ahead of the news while living with the typical lengthy production cycle for a monthly magazine."
What some magazine should've done (and, if you're a weekly, can possibly still do—all I ask is that you credit me as a "contributing editor") is a cover with a headshot of George W. Bush printed in scratch-off ink—like a lottery ticket—with instructions not to scratch off W.'s face until 12:00AM on November 2, revealing the magazine's pick for president. It would be just like an Advent calendar—no cheating!
And, in many ways, this election has resembled Christmas—it's endless, the media shoves it down your throat, you're forced to listen to zany uncles ("Joe the Plumber," Joe Biden), crazy aunts (Sarah Palin) and, even before it arrives, you can't wait 'til it's over.
Meet the Author
---